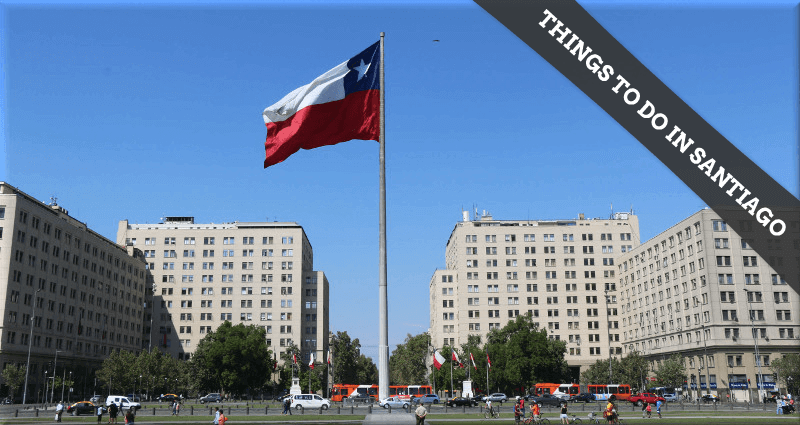 A Guide to Santiago Chile
Things to Do in Santiago
If you are already all packed for your trip to the Andean capital; but all the organizing, the hours spent brushing off your Spanish added to the excitement of a holiday in South America did not leave you time to plan the things do in Santiago. No need to panic! This is when SantiagoChile.com bursts on the scene. We have selected some of the most famous activities in the city (and its surroundings) to give you a heads-up on the top destinations this affluent South American metropolis has got to offer.
In case you have spent even a little while browsing the internet looking for information about Santiago Chile, you have probably noticed that the neighbourhoods here are quite defined and distinguished from one another. None is better than the other, only each of them has its own "identity". In order to guide you through the various faces of the most visited city in Chile, we organized a selection of activities in different neighbourhoods in Santiago to help you put together an itinerary for you and your family, as you see fit.
Santiago´s metro is practical and safe to navigate. When staying close to the stations journeying through most of these areas is incredibly straight-forward. It might happen that one time or another it will be easier to take a taxi. But in reality, for those tourists who don´t mind walking a few kilometres, the need to hail a taxi might never come! Especially because within the boundaries of each of these neighbourhoods, you will come across numerous tourist spots, which are very close to each other and totally worth your while.
To find out about all the details of each of the tourist destinations in Santiago mentioned below, make sure to click on the links. We tell you how to get to them step-by-step, inform you about prices, time schedule and highlight all the relevant points to make your visit hustle-free.
Day 1 – Santiago Downtown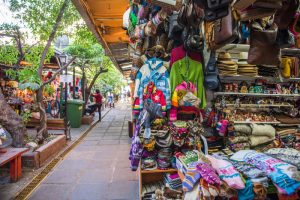 While holidaying in Santiago a visit to its historic center is paramount. This area of the capital is packed with historical buildings, cultural places and, most important of all, a glimpse of what Chile is really like: its food, its people, its day-to-day life. Begin your day with a mid-morning (mid-morning because everyday life in Chile does not have an early start!) visit to the whereabouts of Plaza de Armas and La Moneda Palace. If possible, and if the day of your visit coincides with it, stick around to watch the Changing the Guard ceremony at La Moneda. From La Moneda an easy walk will take you to the popular Santa Lucia neighbourhood, where you will find: Santa Lucia Arts and Craft Market as well as  the popular Santa Lucia Hill, both at an arm´s length to the Fine Arts Museum, Parque Forestal and the charming, bohemian Barrio Lastarria. Here, in Barrio Lastarria, have a break at the Mulato Gil square and plan your late lunch or dinner at the restaurant Mulato or even at the exquisite upper scale BocaNariz. When strolling around this area do not forget to pop into GAM Cultural Center, a building of contemporary architecture where modernity and culture are present in various forms. GAM is located steps from the metro station Universidad Catolica, (linea 1 or red line) where you can take your transport back to the hotel and recharge for the next day.
Day 2 – Providencia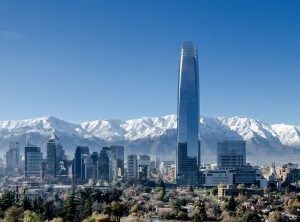 Providencia is one of the most youthful, lively and bustling areas of Santiago. This is a darling neighbourhood not only to tourists vacationing in the city. This is also a neighbourhood on top of the list of those coming to Chile to stay. The atmosphere in Providencia is vibrant day and night! When in Providencia, why not start the day with an activity that requires an extra dose of energy? The perfect opportunity to burn off the calories from the hotel´s breakfast! Don´t think twice and head to Cerro San Cristóbal located in Parque Metropolitano. Hike, cycle or take the funicular to the top of the hill. The beautiful scenery atop Cerro San Cristóbal delivers the perfect background for your photos of the capital. You will fall in love with Santiago! This activity will take a few hours, especially if you decide to visit the Zoo, also located at the park (Parque Metropolitano), and explore the surroundings of Barrio BellaVista down below. Afterwards, if you still have some remaining energy, head back to Baquedano metro station. On the way, be careful not to dismiss Plaza Italia, a landmark of social division in Santiago and a destination of great political value for the Chileans, as well as the Mapocho River. From there take the metro to Costanera Center shopping mall, the stop is Tobalaba. No, we are not sending you to go shopping or anything like that. We want to take you to Sky Costanera, a viewpoint sitting on the 62nd floor of the tallest building in South America with a 360 degrees view to Santiago. Simply a must! Additionally, the endless options for a lunch at mid-afternoon or an early dinner at the mall include some of the capital´s most popular and regarded restaurants: Santa Brasa and Tanta, are just a couple of examples.
Day 3 – Las Condes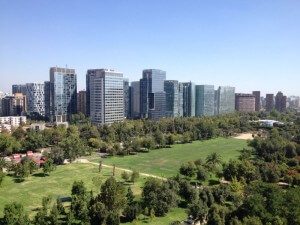 For the tourists who like shopping, Las Condes is a great option. The numerous shopping centers in this neighbourhood of Santiago Chile not only offer shops for all tastes, styles and budgets; but, they are also home to some of the most exquisite and renowned restaurants in the capital. As for those who cannot go long without having contact with nature, the city park Parque Araucano is a beautiful, safe destination and the right bet to where start your day. A walk through the pristine grounds of Parque Araucano with the view of the Andes Mountains framing the city is very unique. Whether during the winter or the summer months in Santiago this park is perfect for taking the kids to run around or spend a few hours in Kidzania or Selva Viva. Just across the Cerro Colorado street there is the famous mall Parque Arauco; today, much more than a destination for just shopping in the capital. Over the years this shopping mall has become a tourist destination, for travellers coming from all over the world.
End your day in Las Condes strolling on the beautiful streets of Barrio El Golf, which is just a quick taxi ride from Parque Arauco. El Golf is known for its sophistication and finesse. While wandering around these surroundings, you will come across some fine restaurants, which are frequented mainly by the elite resident in the country, particularly those on Av. Isidora Goyenechea. Coquinaria, Tiramisu, y Basta Pasta are just a few examples.
Day 4 – Chilean Wineries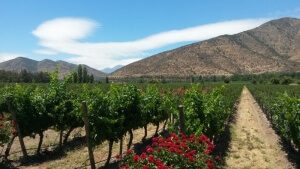 If you have 5 days in the Chilean capital you mustn't neglect a visit to the wineries near Santiago. Make sure to find out a little more about one of the most charming aspects of Chilean culture: The fascinating world of winemaking. Chile is a country with so much wealth that is difficult to decide what to do here, even when you have quite a few days in the capital. If you prefer not to go too far, this is not problem! Hire a tour to one of the wineries close to the capital and you'll be back to your hotel at the end of the day. These tours can be relatively cheap, it will depending of course, on the tour company you go with. There is also the option to go DIY. We tell you everything on the articles we wrote about : Undurraga, Concha y Toro and Emiliana Wineries. They are packed with all the information you need: prices, hours, different kind of tours, wine tasting and even picnic by the vineyards.
Day 5 – Valle Nevado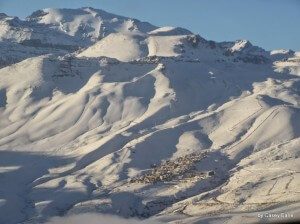 This is your fifth day in Santiago. By now you have visited the most popular neighborhoods, has explored the best-known sights of the capital, have been to museums, cultural centers, historic neighbourhoods, city parks, markets, you have seen both the most popular and sophisticated sides of this wonderful city, tried Chilean cuisine, tasted wine and saw closely the day-to-day life of this busy and elegant south American capital. But wait! Don´t even begin to ask yourself: "are there more things to do in Santiago?" Well…  less than 50 Km from Las Condes the gorgeous Andes Mountain Range looms out. This is a must-see destination at any month of the year. Now you have only a couple of easy options: either hire a car or a tourist company to take you to the top of the 3,000 meter high stunning landscapes. Of course, if your holiday coincides with the winter months in Chile (from June to August) and you are an avid skier Valle Nevado will most certainly be on your list of things to do. During those months, however, be extra careful when driving the long, winding road that link the capital to the ski resorts. Moreover, don´t forget to find out about the timetable for the one way system when vehicles are allowed to drive upwards or downwards the road.
Day 6 – Embalse el Yeso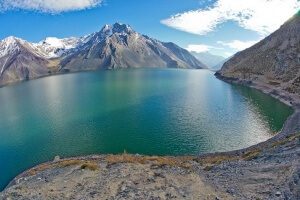 When travelling to Santiago tourists with all kinds of interest won´t be short of things to do. For the most adventurous ones, who always tend to venture the wilderness of the country, another stunning option not far from the capital is Embalse El Yeso, a little piece of heaven in the small town San José del Maipo. Embalse el Yeso is a valley punctuated by towering mountains, with colourful snow peaks framing the deep crystal blue lake. It is recommended to allocate an entire day of your holiday for this activity, that everyone, without exception, describe as unforgettable. Many tourist companies take travellers to Embalse el Yeso on a daily basis during the warmer months of the year. You can also get there on your own. However, the access road is often troublesome, especially for those who do not know the area. Our article on Embalse El Yeso describes it in great detail, as well as its surroundings and the transportation. Check it out for all the tips to rid your day-trip of any possible drawbacks.
Have fun!