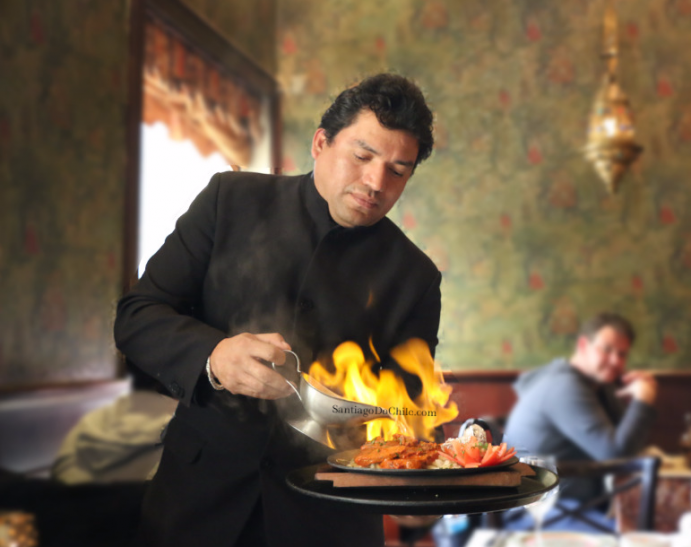 A Romantic Restaurant in Santiago Downtown
For those travellers staying in bustling Downtown area, who happen to be looking for an Indian restaurant in Santiago to curb their craving for curry, we recommend the renowned Indian restaurant Majestic. And here's why: Majestic is the only one out of all the Indian restaurants in Santiago that we (SantiagoChile.com's team) go back to, and I will tell you what: we are experienced curry-eaters.
So, it did not take long for us to find out that the establishment previously located on the rooftop of the shopping mall Alto Las Condes is no longer operating there. Now, Majestic's faithful regulars enjoy its fine cuisine exclusively in the restaurant located in Santiago Downtown, which is also the on sight restaurant for the Hotel Majestic.
Majestic: A Fine Indian Restaurant in Santiago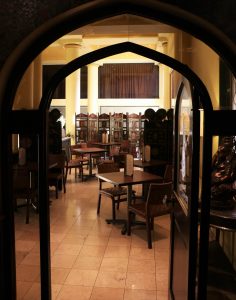 Whether it's a lunch or dinner, the cosy ambiance of Restaurant Majestic delivers the perfect setting for a meal for two. However, we have got to mention that the evenings bring a special charm to the place. Turning Majestic also into that romantic restaurant in Santiago Downtown you were looking for to celebrate your honey-moon holiday in Chile's capital.
Although we are Restaurant Majestic goers, only yesterday we had our first meal in the establishment in Santiago Downtown. We ate a bit of everything, loved it all and decided to share our experience over there with our readers.  Because we know that when travelers go on holiday they look out for great places to eat, and if those places aren't necessary touristy; even better! Well, Majestic is one of those.
Starters –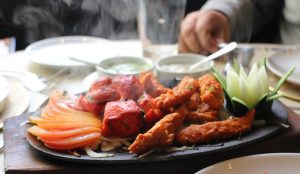 It's not easy to pick only one out of the starters, main dishes and desserts here. You always get that feeling that you are "missing out". I guess that is why we are regulars.
Well, but after a long morning, we were more than hungry and decided to start with a refreshing pisco-sour and a Raan Majestic – leg of lamb roasted in the tandoor oven flambéed in rum liquor sauce – clp 13,900, along with a Mix Veg Snacks – assorted Indian pasties with vegetarian filling – clp 8,900. Each of them is simply flawless!
These starters were plenty to snack on, for 4 people, while awaiting the main event!
Main Dishes –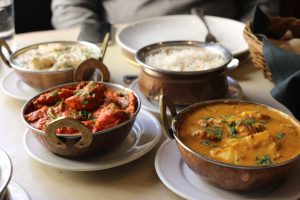 We ordered our very favourite chicken tikka masala. It is impossible to eat in Majestic and not order our favourite chicken Indian curry. This is a marinated chicken cooked in a thick tomato sauce prepared with various Indian spices – clp 8,900. The chicken tikka masala here is one of the best we have had not only in Santiago, but in other countries too! Additionally, we ordered a fish curry, conger eel delicately cooked in a sauce that takes almond and garam masala – clp 9,500; as well as the prawn Afghani – Ecuadorean shrimps cooked in a spicy almond sauce seasoned with cardamom seeds – clp 12.900.
Each of those rich sauce dishes asks for nothing more than basmati rice to be paired with. Our favourite one is kashmir pulaw – basmati rice sautéed in delicate Indian spices and little pieces of fruits – clp 6,900. Of course we didn't forget the naan, which in Restaurant Majestic is always warm, fresh and soft. But I am sure you guessed that by now, right?
Desserts –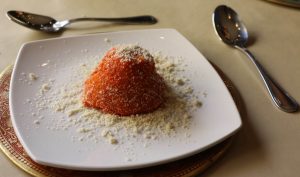 Whenever we go to Restaurant Majestic we order either almond or pistachio kulfi for dessert. Whether is a hot or cold day we faithfully go for this scrumptious Indian ice-cream. For us kulfi is one of those things that you eat and keep playing back in your mind on the days to follow. Simply sinful!
Yesterday, however, we (as well as the kulfi. Please!) ordered Majestic's gajar halwa – a flavourful carrot pudding prepared with almond milk and cardamom powder –  clp 3.900. In here the gajar halwa is served warm and garnished with almond. Our new favourite thing in the world! Well, it is always a big deal when you find a healthy, vegan, gluten free dessert!
Vegetarians –
Vegetarian tourists travelling in Chile might find eating-out in the restaurants in Santiago rather limiting. This is why we carefully studied Majestic's menu as an attempt to broaden vegetarian traveller's options. The good news is: the menu offers a fairly varied choice of vegetarian dishes: for both starter and main dish. Lentils, chickpeas, other vegetables and legumes are all prepared with the same care and sauces packed with the characteristic flavours and aromas of the Indian cuisine. Whether you want it more or less spicy; just like with the meat dishes, let the waiter know how hot you want your sauce – from 1 to 4!
Restaurant Majestic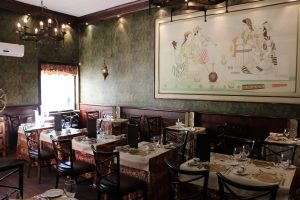 This India restaurant in Santiago is a well known destination among the expats living in the capital. Majestic is an award winning restaurant that boats recognition coming from food-experts and the international media.
The small restaurant is cosy and offers the right atmosphere for a romantic dinner at the heart of Santiago Downtown as well as a celebration among friends and family. A lunch or dinner in Majestic delivers an experience that not only pleases the palate, but certainly all the senses, with its rich aromas and beautiful Hindu images.
How to Get there?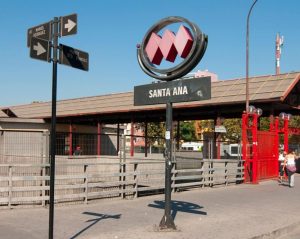 Easy! Restaurant Majestic is within the Hotel Majestic, as we mentioned earlier. Thus, just enter the hotel, which is located only two blocks from Santa Ana metro station – on line 2, the green line of the metro grid line.
In case you are closer to a red line metro station there are two stops that connect to the green line: Tobalaba and Los Heroes. Try to avoid them in the rush hour – from 17:30 to 19:00. Take the exit that will lead you to St. Domingo bridge. Two blocks to your right, from there, you will find the Hotel Majestic.
For reservations and more information about Restaurant Majestic, take a look at their official website: www.majestic.cl