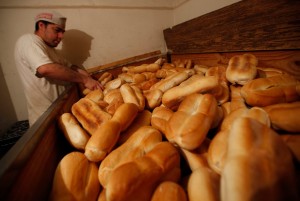 Bread is a staple food in the Chilean diet; it is consumed at an annual rate of 86 kilograms per person. A very valid explanation to this is because Chilean bread is delicious! World renowned Chilean Poet Pablo Neruda even wrote Ode to Bread, to demonstrate its importance in the everyday lives of the Chilean people. Some of the best bread in the world is produced here (many countries may argue with this bold statement) but the fact is that Chile is widely known for its great and varied bread. Of course, in order to agree, one must visit the country.
Another explanation for Chile´s delicious bread is the amount of foreign influence it has received since its colonization and of foreign people's immigration to this stretch of a country. French, Spanish and German are considered to be the main influences which can in turn be noticed in the style of even name of some of the bread and pastry items here.
The most common and well known types of bread found in Chile are the Marraqueta, Hallulla, and Pan Amasado.
The Marraqueta is soft bread with a crunchy texture which is the most widely consumed type of bread. It may go by different names depending on one´s location in Chile, but will remain faithful to Marraqueta in Santiago. This bread is mostly used for sandwiches and Choripan.
Hallulla is another popular bread in Chile. It has a flat round shape, although not as flat as pita bread, and is also popular for sandwiches and tea time.
Pan Amasado is a typical Chilean bread that is traditionally baked in a brick oven and made with lard or vegetable shortening. Pan Amasado is so well known that it may be found being sold on the highways while exiting Santiago.
The bread mentioned above is available in all supermarkets and corner stores, if you are at the right place and the right time you may even get the chance to buy fresh warm bread from any of these establishments.
Other noteworthy types of bread are the Pan de Pascua and Sopaipilla.
Pan de Pascua is a typical Chilean cake which is more similar to the German Stollen and Italian Panettone than to a bread itself. Although only available close to Christmas time it is worth the time given the opportunity.
Sopaipilla is a quick bread to make whose main ingredients are pumpkin and flour. These disc shaped pastries can be served sweet or salty and are traditionally made when it rains.
Last but not least, the utmost Chilean way to try bread is with Manjar, a sweet spread made by simmering milk and sugar together until it becomes thick and brown colored. Similar to Argentina´s Dulce de Leche or Mexico´s Cajeta, give it a try!
Article by:
Tomas Frothingham