There are plenty of words that can be used to describe Santiago, but there's one that no one can argue with: it's vast.  This big, sprawling metropolis is full of different pockets of activity, and chances are, as a tourist, you'll want to check out a lot of them. This requires quite a bit of moving around throughout the different zones of the city. Thankfully, Santiago is home to a relatively efficient and easy-to-use public transportation, consisting of metros and micros (buses).  Once you've used each a few times, you'll feel like a pro.  But one thing you definitely need in order to master these modes of transit is a bip! card.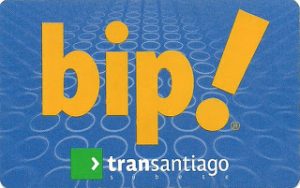 A bip! card is a little blue card that looks similar to any credit or library card.  The card is named for the sound it makes—a short beep when you pass it over the scanners in the metro stations or on the buses.  Users charge the cards with funds and then use them to easily enter the metro or micros.  On the metro, one has the option of either using a bip! card or buying a one-voyage pass. However, in order to run the bus, a bip! card is essential, as the vast majority of buses do not accept cash.
Bip! cards can be purchased at any metro station. The cards themselves cost $1,500. CLP and must be loaded with an initial credit of at least $1.000 CLP.  After this, you're ready to go—just scan the card on the yellow machines and it will subtract credit from your balance. The card can be used for more than one person—just scan it twice. There are several ways to add money to the card. Perhaps the most common is at the ticket counter in any metro station.  However, many metro stations also have automated machines for adding credit with service in English and Spanish. The minimum recharge is $1.000 CLP, and the maximum balance allowed on any bip! card is $25.500 CLP.
Micros always cost $640 CLP per trip, and the metro ranges from $ 610 CLP to $720 CLP depending on the time. If you ride the bus then transfer to the metro within 60 minutes, you will just be charged the difference in fare.  Likewise, if you switch from the metro to the bus, you will not be charged anything additional. The bip! card doesn't save passengers any money—just a lot of time. By adding several thousand pesos at a time, you can skip the sometimes-agonizing lines at the metro ticket counters.
Keep an eye on your card, as there isn't much you can do to reclaim your credit if your card is lost or stolen. The only real option here is the personalization of your card. For $2.550 CLP at any client services office, you can have your card personalized with your name and a code. This code can be used to deactivate a lost card or reactivate a found one, with a $300 CLP fee each time. If you lose a personalized card, you can also use this code to reclaim the remaining balance. Unfortunately, there's not much than can be done with your bip! card upon leaving Santiago.  Transantiago doesn't currently offer recycling of the cards, and unless you've personalized the card, you can't reclaim your balance.  As such, it is advisable to add money in smaller increments toward the end of your stay.