The port city of Valparaiso, at just 90 minutes Northwest of Santiago, makes for an ideal day or weekend trip from the capital. Valparaiso – known as "Valpo" to locals – was once a bustling commercial port connecting the Atlantic and Pacific Oceans, but commerce quickly dwindled with the opening of the Panama Canal in 1914. Artists and students gradually replaced the wealthy merchant class, and the city's Victorian mansions have been converted into art galleries, boutique hotels, cultural centers, and fine restaurants. The result is today's Valpo – an eclectic mix of winding staircases, steep hills, historic trolleys, open-air markets, and mazes of colorful street well worth visiting.
To get to Valparaiso from Santiago, there are several options. Buses leave every ten minutes or so from both the central bus terminal on the Alameda (Metro Universidad de Santiago), and from Pajaritos station (Metro Pajaritos) and cost about C$3.500. Heading straight to Pajaritos is recommended, as it is a smaller and easier station to navigate. By car, take the Ruta 68 highway, which connects the two cities. There are several tolls along the Ruta 68, so be prepared with cash.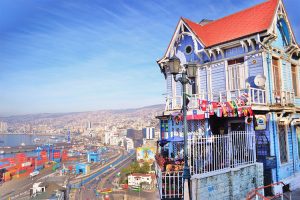 Once in Valparaiso, options abound for activities. To get acquainted with the city and its history, consider taking a walking tour with one of two tour companies that function on a tip basis – http://www.tours4tips.com/en/Valparaiso-Free-Tour.html and http://www.freetourvalparaiso.cl/portada.html which leave at 10am and 3pm from the Plaza Sotomayor and the Plaza Anibal Pinto, respectively.
La Sebastiana, one of Chilean poet and Nobel Laureate Pablo Neruda's three homes, is located on the top of Valpo's Cerro Bellavista and offers a glimpse into the poet's lifelong love for the city, along with sweeping views of the port. Visit their website for tour details and prices: http://www.fundacionneruda.org/en
At lunchtime, the restaurants of UNESCO World Heritage site Cerro Alegre and Cerro Concepcion offer delicious daily specials (menu), with three-course meals for about C$6.000. Some options include http://faunahotel.cl/en/restaurant/, http://pastaevinoristorante.cl/, and Cocina Puerto. For a more rustic experience, the second floor of the bustling produce market, Mercado El Cardonal, is jam-packed with big and small eateries offering up classic seafood dishes such as paila marina and reineta a la plancha. The Mercado is located two blocks from the bus terminal, at the intersection of streets Yungay and Uruguay; ask anyone in town for Mercado Cardonal and they'll indicate the way. Be cautious with valuables in and around the market.
Leaving from port throughout the day, there are small boats (lanchas) that offer a tour of the city from the water. For just C$3.000, you can get a perspective of a city from the water and meet Valpo's famous sea lions up close. Head to the docks at the Plaza Sotomayor and ask for the lanchas.
Whether in Valparaiso for a day or an extended stay, be sure to leave yourself time to simply wander the streets and take in the quirks of this colorful port city. As Neruda put it, Valpo is a city that "never finishes combing its hair, and never has time to get dressed."  From the street cats and dogs for which the city is famous, to the art galleries and sidewalks full of original art, Valpo begs of the visitor open eyes and a curious spirit, and gives much in return.