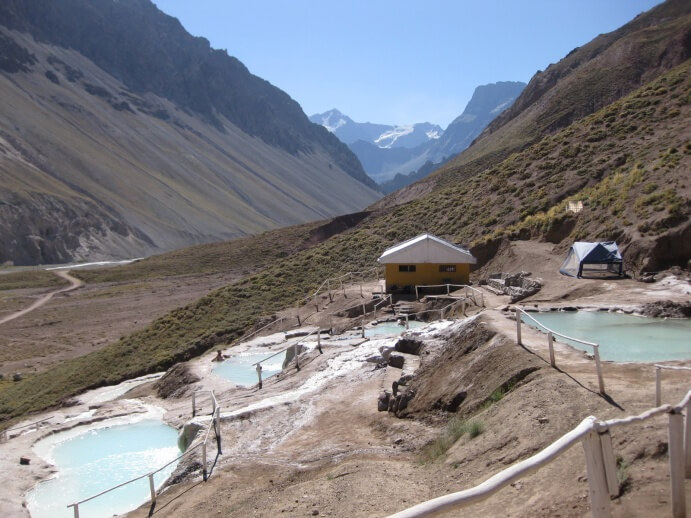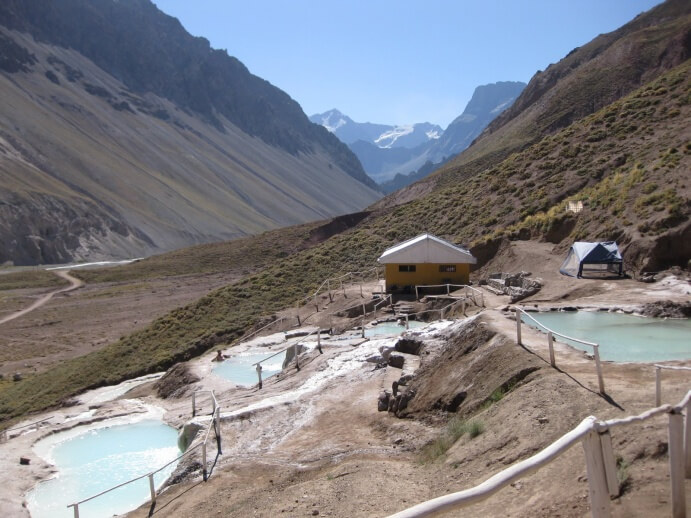 At the bubbling heart of the Andes
When vacationing in Chile you will come across a long list of must-do tours. In case you are the kind of traveller who loves exploring wilderness and picturesque destinations, one of these tours is a visit to the Termas Colina thermal pools. This place is gaining more prominence on the itinerary of the tourists interested in escaping the hustle and bustle of the capital. Why? Well, we will tell you everything in this post!
Termas Colina – Recharge in Nature
At this point in your trip planning you might already know that hot springs are among the (several) wonders of Chile. Thermal pools are a gift of nature that spreads throughout the national territory. It is indeed one of the numerous tourist attractions that the country has to offer.
Termas Colinas, also known as Baños Colina is quite close to Santiago (100 km), has 7 natural thermal pools, is located in the heart of the Andes mountain range and offers vacationers a unique opportunity to get in touch with nature in its purest form. Warning, if you are one of those people who cannot survive without internet connection for more than 2 minutes, an important piece of advice: There is no Wi-Fi signal in Termas Colina! But we know this won´t be a factor that will stop you from experiencing this gem, located only two hours from Santiago.
Get there DIY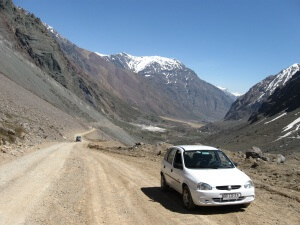 Let's begin by pointing out that the way/road to Termas Colina is somewhat tricky, something that every tourist planning to get there on their own should be aware of. Additionally, during the pick winter months (July to mid-August) the access to Termas Colina is closed by the local authorities; but you still can get there at the very beginning or very end of the season. Still, due to the snow that accumulates on the road it is very important to have an appropriate vehicle for this journey.
Furthermore, have all your papers and the car documents for this trip in hand, at the fork to Embalse el Yeso, there is a police station (the Carabineros), where you might be solicited to stop. Moreover, if after everything mentioned here you still are determined to do this tour with no agency or guides, the following are also relevant points for your day in Termas Colina:
Important!
• There is a CLP 8.000 fee to enter Termas Colina (make sure to bring change, this will prevent delays and frustrations). The fee includes the parking lot, access to the camping sight and the use of the thermal pools for 24 hours.
• When night falls there is no artificial lighting in the grounds. Thus, if the plan is to watch the sun set in Termas Colina, take a headlight with you.
• Shady spots are virtually non-existent in Termas Colinas. Sunscreen, a little hat or an umbrella and lots and lots of water bottles are simply mandatory! Particularly if the kids are coming.
• There are no restaurants or coffee shops nearby the pools. If your plan is to spend all day or most of the day enjoying the warm thermal waters, pack some chocolate cheeses, bread and Chilean wines for a stylish picnic. Just a little tip!
• Finally, do not forget your bathing suit and towels.
General Aspects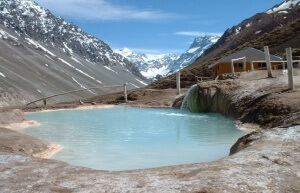 1.The thermal water springs from the earth and are distributed among the seven pools at temperatures ranging from 37 °C to 63 °C.
2.Termas Colina is a very popular destination also among the Chileans. Therefore, do not be surprised if the pools and whereabouts are mobbed. If your tour falls on a weekend or during a national holiday this is to be expected.
3.The infrastructure there is very basic. Many even claim to be precarious. There are facilities (dressing rooms) and bathrooms for visitors. Unfortunately though, the cleanliness of these amenities sometimes leaves a lot to be desired.
4.The terrain is ideal for hikers, climbers and photography lovers.
5.Neighboring country Argentina is just across the mountain.
Do you prefer to make things a little more practical? Our Chilean guide, Elias, can take you to Termas Colina. Send him a whatsapp asking for prices & availability.