Cold Beer & Tapas in Santiago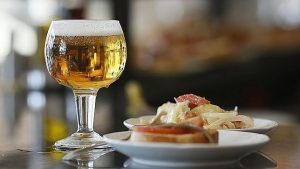 Spanish cuisine has spread across the globe through conquest and intrigue, being one of the food capitals of the world and a heavy influence on Latin American cuisine it is a safe bet that many of the delicious dishes we know across Latin America today hailed from Spain. This being said one of the ways to try a bit of everything Spanish is to try tapas.
Tapas are snacks or appetizers which may be served hot or cold and range anywhere from olives and fried potatoes to shrimp and battered and fried squid. Ordering tapas is a different experience than having a main course where you choose what to eat as you go along as opposed to choosing your whole menu at the beginning of the meal. A cold beer or delicious Sangria is highly recommended to go along with your tapas.
Santiago´s ever growing assortment of international cuisine has plenty of "tapas bars" and restaurants, many of which are run by Spaniards themselves. Some of the best places to have a tapas experience are:

El Magdalena
Chilean food by day and a Spanish takeover by night. The night time setting of El Magdalena is fast paced, a bit noisy and welcoming at the same time. Be sure to arrive there early if you want to get a good seat. In the event that you have to wait, it will be well worth it! Definitely try the sangria and for the adventurous foodies, pig´s ears!
Open: Monday – Tuesday 9:30 – 23:30; Wednesday – Friday 9:30 – 2:00; Saturday 12:00 – 2:00. Price:
Tapas start at 5 USD

De la Ostia
De la Ostia is regularly frequented by Spaniards which is always a good indication of authentic food. It has a nice terrace to enjoy outdoors as well as ample indoor sitting. It is one of the better known places for tapas in Santiago. Be sure to order Estrella Damm or A.K. Damm beer, the best damn beer!
Open: Monday – Saturday 12:00 – late night.
Price: Tapas start at 5 USD

Arola
If you want a more sophisticated environment and delicious tapas Arola is the place for you. Located within the Ritz-Carlton Hotel in Santiago, this stylish and modern restaurant has a bit more of an upscale menu, which is also followed by upscale prices. Worth the visit if you want a trendy atmosphere. If you want the full experience, try the tasting menu.
Open: Tuesday – Sunday 19:00 – 23:00
Price: 30 USD

Doma
A nice terrace and a Gin and Tonic should be enough to please most guests. Doma is located in the Bellavista neighborhood and have "Gin & Tonic days" as well as their menu´s classic tapas. The terrace is a nice way to end an evening with a DJ set or background lounge music.
Open: Monday – Saturday 19:00 – 2:00
Price: 40 USD
Honorable mention

Goemon
Although not Spanish by any means, this authentic Japanese restaurant has some of the best appetizers in town. Always fresh and consistent with quality this place is one of Santiago´s gems. It is a small venue so it is advisable to make a reservation. Do yourself a favor and order the Sukiyaki, it is a hands on experience!
Open: Monday – Saturday 12:30 – 3:00pm, 19:00 – 23:00
Price: 25 USD