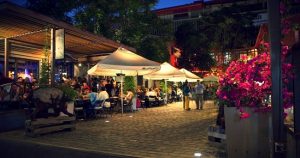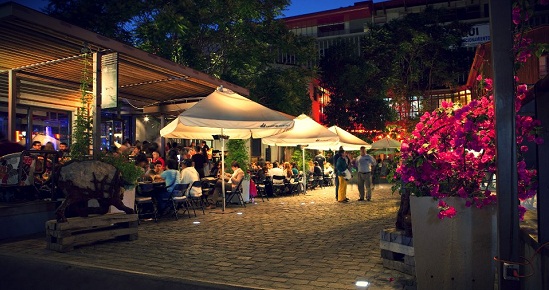 Patio Bellavista
Ask anyone who knows Santiago about nightlife in the city, and one name is bound to come up again and again: Bellavista. This historic neighborhood is known for its bohemian vibe and raucous nightlife that carries on into the wee hours most nights. While the bars on Pio Nono and surrounding streets are fun and crowded, the majority of them are simple and a bit dingy. For those looking for a classier, more upscale experience in this neighborhood, enter Patio Bellavista. This open-air complex of bars, restaurants, and shops, located on the corner of Pio Nono and Constitución, is a relatively recent addition to the culinary, nightlife, and cultural landscape of the city.
Opened in January of 2006, Patio Bellavista has continued to expand over the years, adding shops and restaurants as well as renovating its interior spaces in 2009 and 2011. Its developers wanted it to be an "urban panorama," where tourists and locals could come enjoy an upscale shopping and dining experience within one of the city's most important and well-known neighborhoods. Make no mistake—it's known primarily as a tourist spot. However, Chileans (especially those of higher economic status) do frequent the Patio as well. During the day and evening, Patio Bellavista offers upwards of 50 stores selling artisan handicrafts and souvenirs, including leather goods and the famed lapis lazuli jewelry. Bargain shoppers, beware—this is easily one of the most expensive places to pick up a memento of your trip to Santiago. If you're looking for trinkets, you'd be better off at the Bellavista artisan market across the street. But if you are in the market for a timeless piece or addition to your home, these shops are the perfect place to find it. All of the stores open at 10 or 11 am and close at 10 pm Sunday-Wednesday and 11 pm Thursday through Saturday.
Daytime visitors can enjoy lunch at many of the restaurants in the complex. Pick a spot with a terrace and you'll get a lovely view of Cerro San Cristobal. The majority of the restaurants are open for lunch. The creators of Patio Bellavista pride themselves on the multicultural culinary offerings—the selections range from a USA-style steakhouse to an upscale Peruvian fusion spot. Although you're going to spend more here than elsewhere in the city, not all of the restaurants will break the bank. Check out the newly-inaugurated Spanish sandwich eatery 100 Montaditos, which offers tapa-style sandwiches and inexpensive drinks. Try to go on a Wednesday, when everything is half price. If you're looking to grab a coffee during the day, you've got options—there are several dessert and coffee spots including a Starbucks. Laptop users, beware—this Starbucks is known for the tourists who get their backpacks hoisted while they're not looking. Be careful everywhere, but especially here.
Nighttime is when the Patio really comes alive. All of the restaurants are open until 2 am on the weeknights and 4 am Thursday-Sunday (as well as the nights before holidays). Several offer live music—BackStage Life even has flashy dance shows on a stage visible from all the tables. Other restaurants convert into dance floors as the night wears on. It becomes quite busy on the weekends, so if there is a particular restaurant you are interested in trying, reservations are recommended. A full listing of restaurants and shops can be found at http://www.patiobellavista.cl/tiendas-y-restaurantes.html.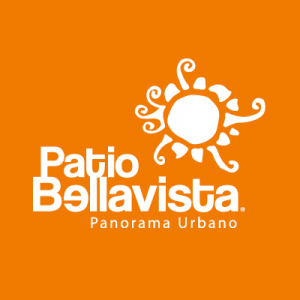 Article by:
Erin Morrissey