Parque O'Higgins
is one of the largest and most centrally located parks in Santiago. Two Metro Stations on Line Two serve it directly: Parque O'Higgins on the northern side, and Rondizzoni on the Southern side. It is also easily accessible by bus and taxi, and by bicycle and on foot as well.
This park is home to several accessible activities, particularly for families with children. One of its most famous attributes is Fantasilandia, ( http://www.fantasilandia.cl/ ) the largest amusement park in Chile. For less than $11,000 pesos for adults and $5,000 for children, its variety of roller coasters, children's rides, games, and other attractions can be explored. It is open midday to 7 PM weekends and holidays, except during rain.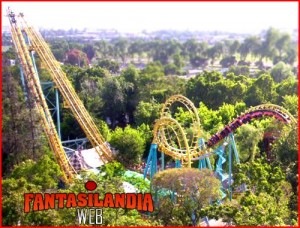 Parque O'Higgins has a large, paved, central area where many local children learn how to bike and skate, and parents can rent or buy a variety of toys. South of that is a lake with rental paddleboats. This lake is circled by a path that features a restaurant, snack kiosks, and picnic areas.
The barbeque areas, or quinchos, in Parque O'Higgins are unique for a few reasons. This is one of the few large parks in Santiago that does not have permanent grills. Instead, mobile grates are available for a rental deposit of $3,000 pesos, although many people bring their own and prop them up above a fire built on the ground using rocks and bricks. Nonetheless, there is a particular area of the park with plenty of picnic tables where grilling is permitted, and the most frequented spots are easy to notice; the hand-dug pits are reminiscent of campgrounds. There are numerous minimarkets and grocery stores conveniently located very close to the park. Additionally, alcoholic beverages are permitted in the picnic area, and it stays open long after dark (of course, caution and vigilance are necessary for those who choose to spend time at the park late at night).
Parque O'Higgins is also home to a host of special events. The music festival Lollapalooza is held there in March, and the Movistar Arena, ( http://movistararena.cl/ ) located in the park tends to host the most famous local and international music groups that perform in Santiago. This indoor arena has a large central floor and thousands of seats, and its centralized location attracts a more diverse crowd than many of the other local venues.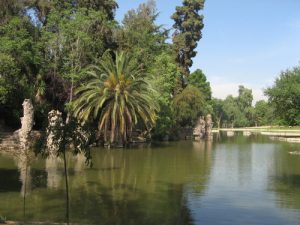 The national independence celebrations of Fiestas Patrias that surround September eighteenth and nineteenth in Parque O'Higgins are of legendary fame. The nineteenth features the national military parade, the most elaborate annual military display and one of the most-viewed annual events in Chile. However, free parties called fondas rage in the park throughout all of the independence celebrations. While certainly still fun and important cultural events, as of 2014, Santiago has been cracking down on certain aspects of the celebrations, including requiring the fondas to charge an entry fee or monitor alcohol use by patrons.
Parque O'Higgins is a great place to stop by for its sheer size and diversity of visitors. It is an easy addition to any day out in the city, as it is a short trip from innumerable other downtown Santiago attractions.
Article by:
Emily Muñoz-Snyder