Parque Forestal is a large, narrow park dotted with numerous must-see locations in downtown Santiago. It borders the Mapocho River from Plaza Baquedano, also known as Plaza Italia, all the way to Estación Mapocho, a historical building and cultural center near the Puente Cal y Canto metro station. Mercado Central, La Vega, and the Bellas Artes museum are some of the other major destinations located in or adjacent to Parque Forestal.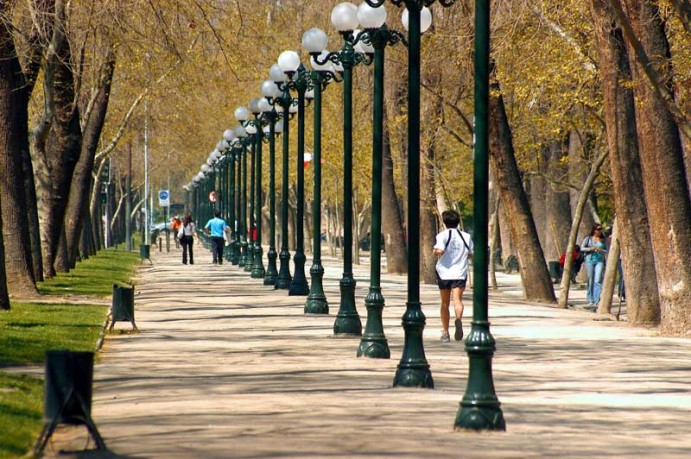 This park is a great place to go for exercise during the day. If you are a jogger, the winding paths provide endless options and multiple elevations. If you have a bike or are renting one of Providencia's public bikes, the primary large path serves as a scenic bike conduit for much of the city. However, the preferred way to visit Parque Forestal remains on foot, starting at the Baquedano metro station. The entire walk takes about an hour.
One of the first distinctive landmarks you will see in the park is the Fuente Alemana, or German Fountain (this one is an actual fountain, not one of the popular sandwich restaurants). Large, elaborate, and often covered in children regarding it as a jungle gym, this work of art is a good example of the sculptures and metalwork found throughout Parque Forestal.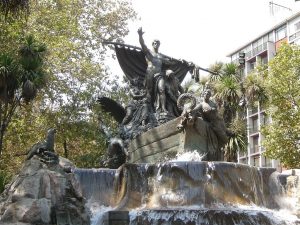 Next, you will come to the Bellas Artes museum. This art museum is open Tuesday through Sunday until 6:30 PM, with an entrance fee of $600 CLP (and free entrance on Sundays). It is a sight to behold from outside as well. There are frequently events and screenings held near the main entrance.
Not far after that, you will find Mercado Central and La Vega. Mercado Central is a largely wrought-iron building housing numerous seafood restaurants and markets. Stop there for a great meal Tuesday through Saturday, when the catch is at its freshest. La Vega is an immense food market, although clothing and souvenirs are common finds there as well. Kiosks usually shut down after lunchtime, so arrive early if you want to explore the blocks of twisting corridors and appetizing foods.
The rest of Parque Forestal is much like the beginning- stretches of grass dotted with picnicking families and dating couples. Feel free to bring a blanket and snacks to relax here, but be prepared to ward off stray dogs (they are mostly tame, but persistent). This section of the park is frequently host to "ferias," impermanent markets often unified by a theme such as clothing or art.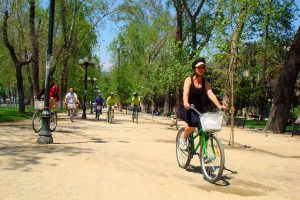 Parque Forestal is generally tranquil throughout the day, although it gets understandably busier on weekends and later in the afternoon as Santiago residents are getting off work. It is strongly encouraged to avoid the park at night. This is not just to avoid dangerous criminal activity, but packs of aggressive dogs as well. However, such risks are nearly nonexistent during the day. If you are a fan of peaceful walks and entertaining afternoons in the park, you will love the sights and experiences Parque Forestal has to offer.