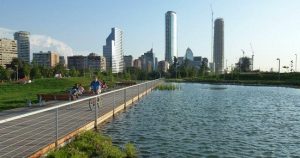 For fans of parks, a trip to Parque Bicentenario is a great way to spend a morning or afternoon. Having only been inaugurated in 2007, this modern park is located in the heart of the Vitacura community, bordering the south side of the Mapocho river. It is best reached by bus or taxi, as it is considerably north of the metro line. There is also a parking lot for the park, and bike paths throughout.
At 74 acres, this is a rather large and consistently stylish park. Fans rave about the relaxing atmosphere and accommodations found here, making it a favorite destination of locals and tourists alike. It is known for having lawn chairs and umbrellas available for rent throughout, as well as quality food vendors and entertainers. The new, safe, playgrounds make this a prime spot in the city for family outings. There is a dog park with training and exercise resources for pet owners, and considerable paths for runners as well.
One of the most popular parts of the park is the large man-made lagoon, featuring lengthy boardwalks and beautiful views of water and the city skyline. It is also home to dozens of black-neck swans and other unusual fowl and fish, which can be fed by visitors. This lagoon takes up much of the Southern half of the park, alongside multi-leveled grassy fields and gardens.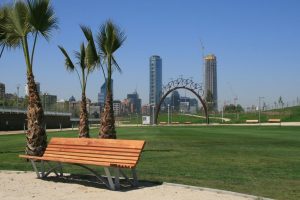 The Town Hall and Civic Center of Vitacura can be found in the Northern section of the park. This building, composed largely of marble and glass, compliments the style of the rest of the park well. Drinking fountains and restrooms for park visitors are located here as well. Outside the Civic Center are resources about upcoming events in the park; which is home to numerous film festivals, children's events, and more.
Also located in the park is the famous restaurant "Mestiza," known for high-quality Chilean cuisine, coffee, and drinks. It features an elevated view of the treetops and gardens throughout the length of the park. Other popular destinations include an astronomical museum, greenhouses, and outdoor gardens, including one designed for the enjoyment of the blind.
The park is at its best in sunny dry weather, when it is ideal for enjoying the lawns and vegetation. It has plenty of space and rarely feels too crowded. In fact, it is recommended to bring kids on weekends as it is a little too tranquil for them during the week. Vitacura is already a quite safe area, and this park has its own security as well, making this one of the most comfortable locations in Santiago. If you have kids or a dog, and especially if you are staying nearby, you may want to make this a regular trip during your stay in Santiago.