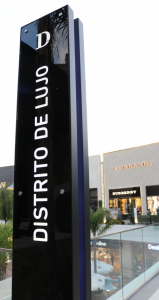 Santiago seems to have set a target on progressively meeting the needs of its visitors. This is a city which offers destinations for all kinds of travellers, they being laid-back people looking for places to just relax, individuals looking into exploring the history and culture of Chile, or those whose holidays are simply not complete without a shopping marathon; this category of tourists, however, is the one which appears to be getting more attention from the public authorities and, mainly, from private groups.
Parque Arauco is one of those groups keeping an eye on what the consumers are asking for, the vice-president of the group said at the opening of Distrito de Lujo, in June 2013: "We want to be able to offer a diversified product for all types of consumers, whether they are nationals or foreigners". Following this mind set, investors gathered no more than nine big names of the fashion world, placed them on a section of the third floor of the shopping mall, named it "luxury district" and branded it as an exclusive venue which "provides high standard goods and events for more sophisticated clients".
Distrito de Lujo houses the following luxury brand names: Louis Vuitton, Emporio Armani, Salvatore Ferragamo, Omega, CH Carolina Herrera, Ermenegildo Zegna, Dolce&Gabbana, Montblanc y Burberry. Some of these labels can also be found at Avenida Alonso de Córdova (Vitacura), or in Costanera Center.
In a society where glamour and fashion are idealized by men and women, this is a project which could not go wrong. Especially when, according to its managers, the prices are very competitive when compared with those of most countries in the world, and in some cases, they say that shoppers can even find lower rates here. This, once again, proves the fact that throughout the whole planning of this audacious strategy not only the nationals, but also the tourists have been taken into account.
The Chilean elite describes the experience of shopping at Distrito de Lujo as nothing less than "fantastic, a place of excellent customer service, very safe…", but there is also a little disappointment towards the fact that the shops are not pet – friendly.
This place is rarely crowded, which makes any day the best day to go shopping. Distrito de Lujo follows a slightly different schedule from the rest of the mall. Opening its doors, from Monday to Saturday at 10.00 am, and on Sundays and holidays at 11.00 am; its closing time, throughout summertime, is at 10.00 pm, whilst during the winter months, is at 9.00 pm. If purchasing some jewellery has also been included in your to do list, beware that all jewellery shops in Parque Arauco close at 8.30 pm every day of the year.
As providing a whole luxury experience has been taken quite seriously here, the mall also offers a VIP car park on the ground floor (just an escalator away from the aforementioned area), with covered parking spaces. All the driving round and round, in search of a place to park, as well as the queuing up to pay for the parking fee do not happen for those clients willing to pay the price of encountering the whole concept Distrito de Lujo is meant to have.
Article by:
Abigail Dantes