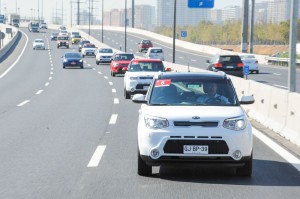 Driving in Santiago Chile
When planning your trip to Santiago, you may consider the option of renting a car. First, think about your itinerary. If you're just staying in the city, it's probably not necessary for you to rent a car. The metro and the bus system are quite expansive and easy to navigate, and taxis are ubiquitous and reasonably priced. Having a car in the city might end up being more trouble than it's worth. However, there is something to be said for the freedom you are afforded when you have your own set of wheels. Since Santiago is located so close to the mountains and the beaches, a car gives you the chance to get to some off-the-beaten-path spots where buses don't go. If you have a car, you can head deep into Cajon del Maipo, or you can visit some of the lesser-known beaches. Driving outside of the metropolitan area is actually quite easy and very similar to driving in western countries, except for the fact that there are fewer places to stop (hotels and restaurants) along the way.
If you do decide to drive in Santiago, there are several things to keep in mind. The first is, of course, the traffic. Santiago is a major metropolitan city, and many of its residents prefer to go to work and school by car. This means that during rush hours (roughly 8 am – 9:30 am and 6:00 pm – 8:30 pm), the streets are packed with slowly moving cars. Downtown has the worst traffic, but Providencia and Las Condes also see their share of the problem. During the traffic, drivers abandon all courtesies—if they see a split second where they can switch lanes, they will. You'll have to adopt an equally aggressive attitude during these hours as well. However, in the daytime and later on at night, it's not nearly as bad. Chilean drivers tend to use turn signals and obey the pedestrian's right-of-way. Watch out for buses—they're known for sudden maneuvers and a lack of respect for fellow drivers.
Navigating the city can be easy if you've got an overall idea of where you're going. The streets function on a grid system. The problem is that all streets are not clearly marked on all corners, so you find yourself playing a guessing game. In the more populated areas of downtown, Providencia, Las Condes, and Vitacura, this isn't so much of a problem. But in Recoleta and farther out in the center, you may find yourself a bit confused. Watch out for one-way streets as well—sometimes a street can change with no warning. Parking is another important consideration. Many hotels and apartments do not include a parking space in the rental price, so you could end up paying extra. Parking in other areas is sparse and nearly always costs money. Do not leave anything valuable in plain view when your car is parked.
Prices for rental cars are quite reasonable, and you can get a better deal if you rent a manual or book online ahead of time. There are local Chilean companies throughout the city, and major multinational companies at the airport. Insurance is recommended. You will be able to drive in the city with your current driver's license from your home city. However, if you plan on establishing residency, you will eventually need to apply for a Chilean driver's license.
Article by:
Erin Morrissey