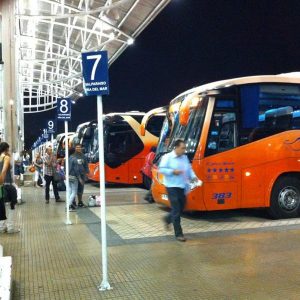 Bus Terminal Alameda
One of the most appealing things about visiting Santiago is its proximity to other beautiful and interesting places. Take the bus for a couple hours in other directions and you'll find yourself camping amongst gorgeous mountains or enjoying crispy fried empanadas on tranquil beaches. That's the beauty of Chile. And, fortunately, it's quite easy and affordable to reach these other locales via bus.
There are several bus terminals throughout the city, but the largest ones are located at metro Universidad de Santiago. Exiting the metro, you'll go right and head through a tunnel that will take you to Terminal Alameda Santiago. This is Santiago's primary bus terminal. Here, you can buy tickets from the two main companies, Turbus and Pullman. These companies service many of the nearest locations—Valparaiso and Viña del Mar—as well as farther destinations such as Pucón and La Serena. This terminal is filled with shops, cafés, and pharmacies. The cafés offer simple meals such as sandwiches and completos, and a couple of them even boast Wifi—but don't expect it to work consistently.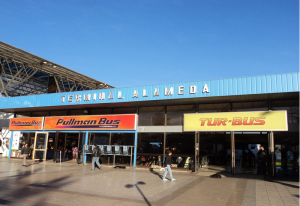 This terminal can become quite crowded at peak times—Friday evenings or weekend mornings and afternoons. It's generally safe, but watch your belongings and don't flash your possessions. The lines at the ticket counters can seem daunting, but they actually move quite quickly. The majority of the salespeople do not speak English, but they are accustomed to dealing with tourists. If your Spanish is nonexistent, just write your destination and departure time on a piece of paper and they will help you. Turbus and Pullman accept major credit cards, and there is an ATM in the terminal. Prices for tickets vary, but are reasonable (between 3.000 and 6.000 each way for a ticket to Valparaiso, for example). Prices depend on the type of bus—a clásico will be the cheapest, with upright seats that lean back slightly, ranging all the way to cama seats, which recline almost 180 degrees for longer bus rides. Many of the shorter buses will be semi-cama, with seats that recline considerably and are equipped with footrests. Tickets are also more expensive on weekends and holidays, and they are cheaper if you purchase them a few days in advance. Be careful on weekends—you'll need to arrive a couple of hours early to make sure your bus doesn't sell out. If you want to head to Viña on a Saturday in the summertime, for example, it's best if you head to any Turbus or Pullman storefront on Friday to book your ticket. When you purchase your ticket ahead of time, make note of your departure terminal—it could be this one or several others, all of which are at metro stops throughout the city.
If you exit this terminal to the west and cross the street, you'll be at Terminal de Santiago. This is where you can find tickets from other, smaller bus companies that service varying destinations, including Mendoza, Buenos Aires, and San Pedro de Atacama. The ticket counters will list destinations and times—you can head to a few and compare prices. Payment is mostly in cash. Generally, these buses are less modern than those of Pullman and Turbus. When in doubt, ask if you could see the bus that you'll be traveling on to make sure it'll be bearable. All of the buses are certified, so safety isn't as much of a concern as in other South American countries. This terminal is less crowded than its neighbor, but also offers some shops and places to find a snack. As with Terminal Alameda, try to arrive early to ensure you'll get a ticket to your destination.
Article by
Erin Morrissey