Which Santiago Area to Stay In?

At first it might be a little daunting looking for the right neighbourhood to stay during your trip to Santigo. For a fresh start, though, all you need to know is that out of the 35 plus comunes that comprise Chile´s capital city, only a handful of them provide the infrastructure travellers seek for when spending time away from home. The red line of the metro grid line (or linea 1, as it is best known here) is the spinal cord of these areas; where hotels, hostels, restaurants, tourist attractions and shooping destinations are plentiful. Of course, each one of them has their very own singularities, and this is why we are going to describe them here so you can decide which neighbourhood meets your needs and interests better.
---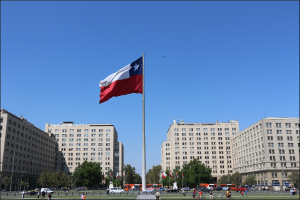 Santiago Downtown or, simply Santiago
This bustling vicinity houses many local small companies and big businesses, but it is mainly known for being home to the majority of cultural destinations not only in Santiago, but in the entire Chile. In Santiago Downtown there is a large number of heritage sites; the presidential palace, El Palacio de La Moneda is located here as well as several museums and the popular Barrio Lastarria. Day-to-day life in this neighbourhood is super busy, and sometimes a little stressful. It is sensible to take extra care of your belongings when exploring this part of the city, petty thefts are very common around this neighbourhood, both on public transports and on the streets. Crimes do not involve guns or physical violence, Santiago Chile is a fairly safe metropolis overall. Accommodation in Santiago Downtown is generally cheaper than in Providencia and Las Condes.
The metro stations, on the red line, that cover all of Santiago Downtown area go from metro station Baquedano to metro station San Pablo.
Take a look at Hotel Majestic, they offer great deals on packages and 3 night stays. Their website is HotelMajesticSantiago.com/
View our page of Hotels in Santiago Downtown.
---
Providencia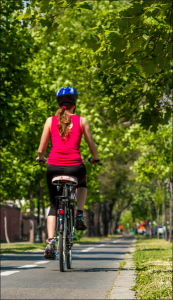 This is the stomping ground of a number of expatriates in Santiago. Providencia has a youthful, bubbly atmosphere with great nightlife, bringing life to the streets until almost dawn, thus making this area safer for a walk with the group after party hours, for example, something not recommended in SantiagoDowntown. Dotted with bars, restaurants and hotels this neighbourhood is an excellent destination for tourists interested in culture and socializing, a short trip on the metro will take you to places like Manuel Montt and Patio Bellavista. Accommodation is Providencia can be a little pricey, but a vast selection of apart-hotels in this vicinity are a good option for families and larger groups watching their budget. In Providencia, tourists are basically a door step away from popular destinations such as the Shopping Mall Costanera Center, Cerro San Cristóbal and highly recommended restaurants like Le Bistrot, Aquí está Coco and Astrid y Gastón.
The metro stations, on the red line, that cover all of Providencia area go from metro station Tobalaba to metro station Baquedano.
View our page of Hotels in Providencia.
---
Las Condes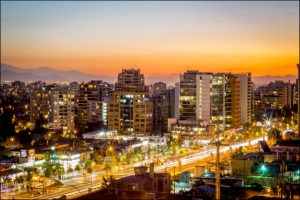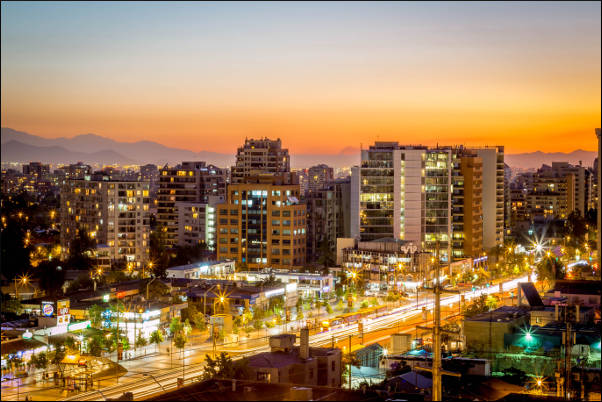 This is a high end neighbourhood in Santiago Chile displaying clean streets dotted with modern looking buildings. The big shopping malls Parque Arauco, Mall Sport and Mall Alto Las Condes are all located in Las Condes as well as five star hotels such as the W Hotel, the Marriott and the Ritz Carlton. This area is also home to Chile´s financial district, El Golf, an upper-class destination mostly frequented by the local elite and well-to-do expats. Accommodation in Las Condes is more expensive, but there are numerous options of apart-hotels throughout its different vicinities offering fairly competitive rates. Another great aspect of staying in Las Condes is its easy access (due to its proximity) to the ski resorts Valle Nevado, El Colorado and La Parva. The journey should not take tourists more than 70 minutes to reach Farellones, the first little village welcoming skiers to the Andes Mountain Range.
The metro stations, on the red line, that cover all of Las Condes area go from metro station Tobalaba to metro station Los Dominicos .
View our page of Hotels in Las Condes.
---
Vitacura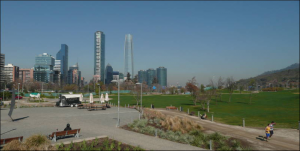 Vitacura is a wealthy, traditional area of Santiago whose residents are mainly the upper-class Chilean society. Despite offering a number of hotels Vitacura is not a neighbourhood known for being a popular destination amongst visitors to this city. However, the tourists who choose to stay in these surroundings will find a variety of quality restaurants such as Cozzinate, Mestizo and La Casa Vieja; the famous city park Parque Bicentenario, which is a great destination especially during the hottest months of the year, and Alonso de Cordoba street, an area framed by luxury brand stores. When it comes to culture, Vitacura is not far behind, the Museo de La Moda , the Art Gallery La Sala and the Museo President Pinochet often inspire those travellers interested in local history and knowledge.
Vitacura area is not serviced by a metro station.
View our page of Hotels in Vitacura.
---
Farellones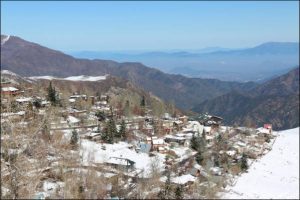 An hour's drive from Las Condes, Farellones is an excellent choice for accommodation, offering both hotels and hostels, during the skiing season months (June to mid-September). Despite accommodation rates being a little pricier here than those found in Santiago, Farellones is a most practical option for the avid skiers trying to avoid commuting on the endless road that connects Santiago to the mountain. There isn´t a huge selection of restaurants here, but this is not seen as a problem for the travellers staying in Farellones. The hotels in Farellones, in general, include breakfast and dinner in their daily rate. There are some small grocery stores, a gas station and a police station nearby. The best way to move around on the mountain is with a rented vehicle; despite the huge variety of private vans offering return trips from the hotel to the ski slopes, tourists often complain about what they call abusive charges.
There is no public transportation system to take skiers back and forth to the ski centers: Valle Nevado, La Parva and El Colorado.
---