Viña del Mar, at 90 minutes northwest of Santiago and directly north of Valparaiso, is the beach resort town of choice for Chileans. Meaning "vineyard by the sea", Viña del Mar was site of the first colonial vineyards in Chile. While not the most dynamic city for sight-seeing, Viña is a worthy day trip for beach-seekers and also offers up a few museums and attractive parks.
From Santiago, buses leave every fifteen minutes or so from both Pajaritos station (Metro Pajaritos) and the Central Bus Station (Metro Universidad de Santiago) bound for Viña. By car, take Ruta 68 to Ruta 60 near Valparaiso, and continue onto the Autopista Troncal Sur, which will take you into Viña. Be prepared with cash as there are several tolls along the route.
The waterfront in Viña boasts a continuous strip of beach as well as several kilometers of pedestrian path that start in Valparaiso and continue up the coast to up-scale suburbs Reñaca and Concon. Starting from the southern side of the city and continuing along the waterfront avenues España and Marina are some of the city's best sites, including the famous Reloj de Flores (Flower Clock) and Castillo Wolff, an early-twentieth century estate turned art gallery built atop the coastal rocks. The waterfront Sheraton Hotel boasts a large deck overlooking the water and is a great place to stop in for a sunset cocktail.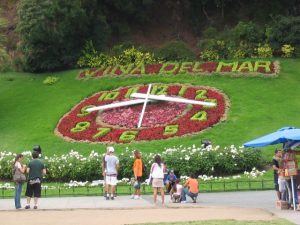 Along with its beaches, Viña boasts some of the finest urban green spaces in Chile. The National Botanical Garden (Jardín Botánico Nacional) is located on the outskirts of the city, 8 kilometers from the center, and is home to 61 hectares of land with over 3,000 plant species. To get to the gardens, take a taxi or bus 203 from Calle Alvarez to Puente El Olivar, where you cross a bridge and walk about 500 meters north to the park entrance. Entrance costs C$1200 for adults, C$400 for children. Another of the city's expansive green spaces is the Parque Quinta Vergara, once the private residence of the city's founding family, the Alvarez-Vergaras, and now an expansive public park that includes the city's Museo de Bellas Artes (closed indefinitely due to damage from 2010's earthquake), a large amphitheater, and mazes of walking paths. Entrance is free, and the park is open every day except Mondays.
Downtown along Avenida Libertad, The Fonck Archaeology and History Museum and  artfully displays artifacts from Chilean and Latin American indigenous cultures, including Mapuche silverwork and one of the original Easter Island moai statues. Entrance costs C$2000 for adults and the museum is open Tuesday –Saturday from 10am-6pm, with reduced hours on Sunday and Monday.
For dining in Viña, think seafood. The dock at Caleta Portales, located between Valparaiso and Viña are accessible by the Metro and any bus bound for Valparaiso, is flanked by a strip of beachside seafood restaurants. Another dining option is Viña's most famous eatery, the legendary Flor de Chile: http://www.laflordechile.cl/ at streets 8 Norte and 1 Poniente, offering up classic Chilean dishes and equally classic old-world décor. Expect to wait in line on weekends.
Easily combined with a day or weekend trip to Valparaiso and even to the commercial vineyards of Casablanca, Viña del Mar offers up a chance to relax ocean side and stroll tree-lined streets, together with the many vacationers who adore this city.