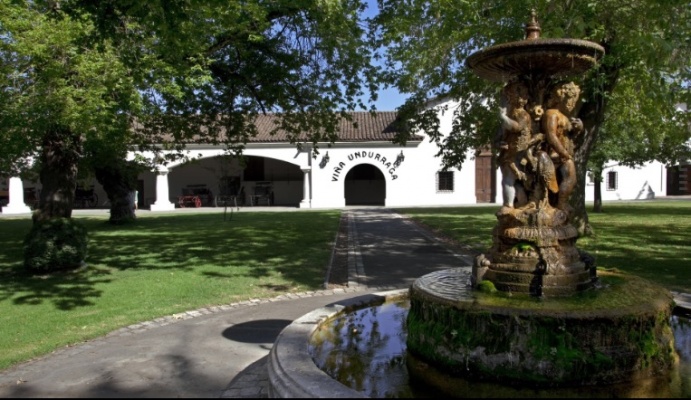 Undurraga Winery
Visiting and exploring Santiago Chile can be a tricky task if your stay in the city is only for a few days. It's hard to choose what to see when there are so many options on offer. If your stay, however, gives you time to venture both the capital city and its surroundings, a visit  to one of the beautiful nearby wineries will be on your list of things to do. Although, there will remain a question: Among so many wineries, which one to go for?
Well, Undurraga Winery is an excellent choice for several reasons: it is easy to get to without the assistance of tour operators, it boasts  a large collection of renowned wines (red, sparkling, late harvest), the English speaking guides are patient and more than happy to answer any questions about wine-making and there are tours for tourists on a budget as well as for those looking for a more intimate ( costly ) experience.
No wonder why Undurraga Winery is up there on top of the list of most visited wineries in Chile.Plus, just to add more appeal to travelers in doubt, the Sibaris Carménerè Gran Reserva 2013 wine won the gold medal at the prestigious magazine Wine & Spirits competition, earning the title of best Carménerè wine in the world last year.
Undurraga Winery Tours
Sibaris Tour
The most popular tour among travelers watching their budget, the Sibaris tour can get a bit crowded. The size  of the groups for this tour can be up to 40 people. This guided tour is available in English and Spanish.
Sibaris Tour General Information
Duration – 1 hour & 20 minutes
2016's Price – CLP 10,000 per person
Itinerary – Undurraga family´s gardens, Aliwen (a small museum about the Mapuche population, one of Chile's  native peoples), vineyards, wine production areas, cellars and finally, perhaps the most anticipated part of all; the wine tasting. The tasting for this tour is comprised of  3 reserve wines. At the end of the guided tour visitors are gifted with an Undurraga Winery personalized wine glass.
Schedule & Bookings  – Make your reservations for this tour with an at least 24-hour notice prior to your visit, via the email: pjerez@gvp.cl
The Sibaris Tour is available every day of the year following the agenda–
From Monday to Friday visits begin at 10:15, 12:00, 14:00 and 15:30
On Saturdays, Sundays and holidays at 10:14, 12:00 and 15:30.
Founders Tour
This tour has a very similar itinerary to that of Sibaris Tour. The main difference here is the price (almost 3 times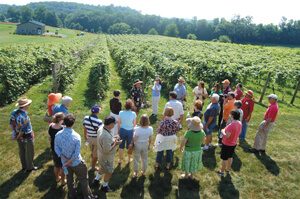 more expensive! CLP 28,000) and the wine tasting at the end of the visit, featuring four Gran Reserva Premium wines paired with a selection of cheeses and nuts. The Founders Tour is also a little bit longer, lasting an extra 15 minutes. There is an at least two-day notice and a minimum of 3 people requirement for this tour to be schedulled. As this is a more expensive tour, the groups are considerably smaller. At the end of the Founders Tour at Undurraga Winery, visitors are also gifted with an Undurraga Winery personalized wine glass.
Picnic at Undurraga Winery
If the occasion calls for more romanticism, a good option is to schedule a picnic on the grounds of the winery. An increasingly popular choice for tourists on holiday in Chile celebrating a special date or occasion. Visitors who purchase this service have a discount on the Sibaris Tour. Don´t miss out! Although Undurraga Winery offers the picnic option for tourists all year round, from 9:00 hours to 17:00 hours, the months during which this activity is more enjoyable are: from January to May and September to December, spring and summer time respectively. Inquire about prices and bookings for the picnic via the emai: visit@undurraga.cl
How To Get There
Naturally, if you hire the services of a tourist company, or even a private guide, how to get to Undurraga Winery won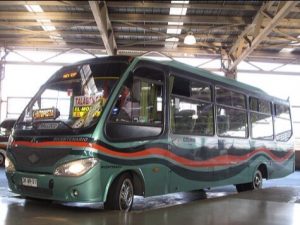 ´t  be something you will have to look into when planning this activity. There are endless options of companies that can provide this service! Check them out on TripAdvisor and pick the right one for you. As for costs, the price can vary from CLP 28,000 to CLP 40,000. Conversely, in case you prefer to "invest" this money in something else during your holiday in Santiago, for less than CLP 3,000 (including the ticket for the metro) you can take a bus at the San Borja Bus Terminal  and be dropped off right at the winery´s doorsteps. As simple as that!
At this point, it is very likely that you have already heard about the red line, línea 1, of Santiago´s metro gridline. Great! Now, just take the metro towards Estación Central station. When you get there do not panic with the fact that this is a train station. Simply ask for the bus terminal (San Borja) and go immediately to the platforms with buses leaving for Talagante. These vehicles generally sit between the platforms 79 and 81. When on the bus, please make sure to tell the driver that your stop will be at Undurraga Winery. In less than one hour you'll be there! Straight forward and inexpensive.
Our Tips for You
This activity will last at least  3.5 hours. You know… one hour journey to the winery, more than 1 hour for the guided tour, plus another hour back to Santiago. Unlike many other Chilean wineries, Undurraga does not have a restaurant or coffe-bar. So, this is something to bear in mind and for which to prepare. Make sure to have some drinks and or snacks in your back pack!
Do not forget to have your Bip!Card in hand for your ride on the metro.
Having small change to pay for your bus ticket on the bus to Talagante will make your life a lot easier.
While on the metro and Estación Central area, have extra care with your belongings. Santiago is a safe capital city, in general, but pickpockets and petty theft are very common daily occurrences.