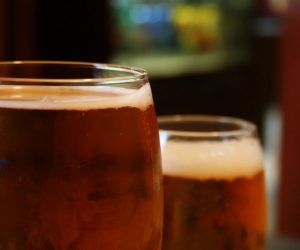 Santiago
is a city that embraces socializing and drinking, and that culture lends itself well to the hundreds of bars and pubs throughout the city. Included are the five most popular bars for tourists to visit, and for good reason. They are all popular, large, and distinctly Chilean in their own ways.
The Clinic: The Clinic is a famous leftist Chilean periodical, and the organization behind it runs a few openly political, newsprint-themed bars of the same name. Its largest and most popular location is on Monjitas Street less than a block away from the Bellas Artes Metro station. It has an extensive menu of food and cocktails, and is especially well known for its blood sausage (or prieta) dishes. Dinner and drinks for two can easily run upward of $30,000 Chilean pesos, but there is a variety of more cheaply-priced items on the menu. http://www.bartheclinic.cl/
Bar Berri: Bar Berri is a short walk from the Bellas Artes neighborhood, located on Rosal Street in the neighborhood known as Lastarria. Berri looks like a humble, classic bar from the outside, and it is on the first floor. However, the second floor is preserved in 1920s European-style décor, and only open to the public Thursday to Sunday. Paired with a glass of wine or an excellently prepared pisco sour, this atmosphere cannot be beat. The food menu is limited, but serves a popular burger served on sliced bread. Two can visit Bar Beri for less than $20,000 pesos, as most guests typically go just for a drink or two.
Flannery's: Flannery's prides itself as being the first major Irish pub in Chile, although the Providencia neighborhood now has a few others (check out Fiddlers and The Shamrock). Located on the border between Providencia and Las Condes about a ten-minute walk north from the Tobalaba Metro station, Flannery's attracts foreigners and local Chileans at an even rate. It serves local artisanal beer on tap and carries Guiness and cider in cans. The food menu is extensive and features heavy appetizer and sandwich type dishes, such as chorrillanas and burgers. The second story hosts a great karaoke party on Friday nights, and frequent live music events as well.
http://www.flannerys.cl/
La Piojera: La Piojera (piojera essentially translates to "flea") is a bar near the Puente Cal y Canto Metro station, most famous for its strange but dangerously appealing terremotos. Terremoto is the word for "earthquake" in Spanish, but it is also a Chilean drink made of young, sugared white wine called pipeño, grenadine and/or fernet, and a large dollop of pineapple ice cream. While no one would call this bar "classy," it has a distinct appeal and clientele. While it is authentically Chilean in terms of food and drink, La Piojera still attracts thousands of tourists annually with its inexpensive service and exciting atmosphere.
http://www.lapiojera.cl/
Liguria: Providencia: Liguria is an eye-catching bar and restaurant known for its elaborate color schemes, wine selection, and laundry list of delicious daily specials. It has several locations, but the biggest and perhaps most popular is in the heart of Providencia near the Manuel Montt Metro station. Just about everything on the menu- which includes rich seafood, pastas, soups, tablas and more- is delicious, but expensive. The cheapest wine bottles cost about $10,000 pesos and the food portions are not large. Nonetheless, this sit-down restaurant is an easy-to-find and comfortable way to experience Chilean wine and fine dining.
http://liguria.cl/
If you like article why not read Emily´s article on "Top 5 Night Clubs in Santiago".
Article by:
Emily Muñoz-Snyder