Santiago Seen  as Never Before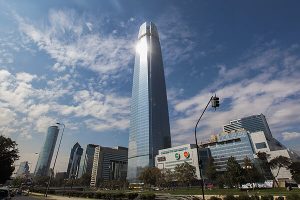 Santiago is a versatile capital city constantly catering to its visitors. Here there is a variety of activities for tourists with all kinds of tastes, budgets and interests. Are you planning a skiing holiday? Come during the winter months, under an 80 minute drive from Las Condes area, you will find three out of the country's most renowned ski resorts. Are you interested in soaking in a little South American culture? In Santiago Downtown there is are number of museums, art galleries and cultural centres touching topics such as anthropology, modern history and fine arts. If your thing is shopping, this is one thing this city has got, lots and lots of shopping destinations ranging from popular arts-and-craft-markets to luxurious complexes gathering the most regarded names of the fashion world.
Sky Costanera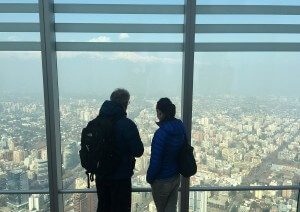 As if all of these assorted options were not enough already. A new impressive attraction has been brought to Santiago: Sky Costanera. What is it? This is nothing more, nothing less than a 360o viewpoint located on the 62nd floor ( over 300 m high ) of the tallest building in Latin America, the Gran Torre Santiago. Can you imagine the sweeping views? Not to mention the Andes Mountain Range framing the entire city!
This is not an activity for those afraid of heights, or even, a quick sudden trembler. As for the less concerned visitor, however, Sky Costanera is, without a doubt, a must-go destination in Santiago. From there you will get to know Santiago´s main attractions, such as Cerro San Cristóbal, Barrio Lastarria and the Andes from a very unique perspective. If possible, try to go to Sky Costanera on a clear day, just before the sunset. The change in scenery is fascinating, the bright sun slowly fading away while giving place to the city´s warm lights at night is definitely something worth witnessing; apart from the sunset itself, of course.
Although the closing hours is advertised to be at 22:00 hours, beware that the last ride on the lift is at 21:00 hours. Additionally, even though the administration claims they open all-year-round; Sky Costanera closes its doors on the 1st of January, 1st of May, 18th and 19th of September and the 25th of December. Purchase the tickets to access Sky Costanera on the underground level of Costanera Center Shopping Mall, the ticket office is nearby the shops PC Factory and Easy. On weekdays, particularly in the mornings, there is basically no waiting in line and entrance is cheaper.
General Information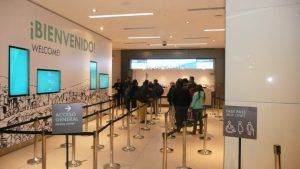 Opens at 10:00 hours | Closes at 22:00 hours
Last lift ride: at 21:00 hours
Prices
Monday to Thursday
Adults (from 13 to 64 years old) – CLP 5.000
Children (from 4 to 12 years old) – CLP 3.000
Fast Pass ( with the fast pass you don´t need to wait in the line ) – CLP 12.000
Friday to Sunday
Adults (13 to 64 years old) – CLP 5.000
Children (4 to 12 years old) – CLP 8.000
Fast Pass ( with the fast pass you don´t need to wait in the line ) – CLP 12.000