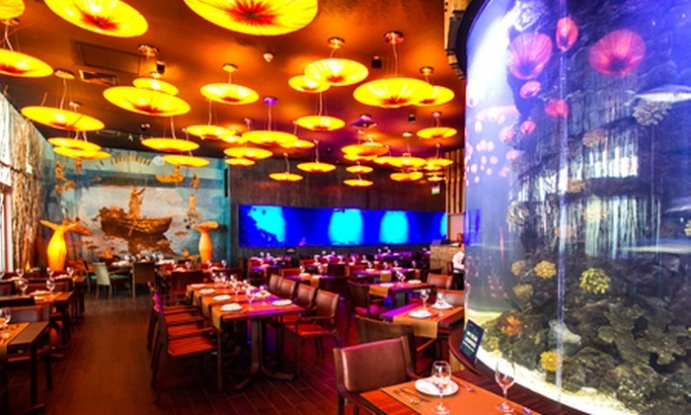 Restaurant Costamia in Mall Costanera Center
Where can we find a good seafood restaurant in Santiago?
This has become a trivial question among our readers. Particularly when you consider that one of the most important elements of a holiday is to dine out and experiment the flavours and aromas of that country´s cuisine. Travellers generally have a broader knowledge of gastronomy and are not shy of giving unfamiliar preparations and seasonings a go. So, these very tourists, when planning a holiday in the Andean capital, already know by heart the places where they can eat well in Santiago.
Even so, we went on a little "mission": Try a new (for us) restaurant in Santiago that is already receiving tourists from all over the world (a good sign!), and then tell you all about it on one of our many posts related to gastronomy in Chile. Off we went!
A great seafood restaurant in Santiago
Restaurant Costamia is located on the 5th floor of the well known shopping mall Costanera Center, a popular destination for tourists staying in Providencia.
Even if you are not a great fan of shopping malls, this one is worth a visit. First, because is home to the impressive Sky Costanera; and second, because you and your family can have a fine meal in Costamia, an authentic Chilean seafood restaurant.
We had lunch there yesterday and we are already planning to return with friends and family.
A king crab fan?
The kigcrab – clp 69,000, is enough to serve 4 people and is an ideal dish to be paired with the sauvignon blanc Garcés Silva Amayana, from Leyda Valley – clp 17,800. Restaurant Costamia's wine list offers the right array of white, red, sparkling, and late harvest wines, as well as a small selection of champagnes to complement each one of the chef's dishes.
Costamia's chef is the Peruvian Alexander Dioses, whose resume boasts nine years working for the renowned Gastón Acurio. Wow! Now you tell me, how can you go wrong?
Fresh Seafood & Fish
Considering seafood is hardly a unanimous choice in big groups of friends and families. We carefully studied the menu to find something to make everybody happy, children, celiac and fussy people. There was something for everyone!
To drink 
Besides the mandatory pisco sour, we also tried and recommend the costa sour: amaretto pisco blended with passion fruit and orange juice – clp 4,500; for the children, the scrumptious maracumango (passion fruit and mango) juice – clp 2,900 was a huge success!
Starters
Restaurant Costamia offers a vast option of starters, hot and cold. The ceviche de nuestro Chile – shredded, macerated fish in seasoned lemon juice with cilantro and onion – clp 9,900, as well as the fresh salad – lettuce, smoked salmon, goat cheese and toasts – clp 8,900, are equally delicious and strong flavoured. However, the highlight of the entrées was the seafood pie, a kind of stew of various seafood gratin with parmesan cheese. All bubbling in a small clay bowl – clp 10,900. Yum, yum, yum!
Main course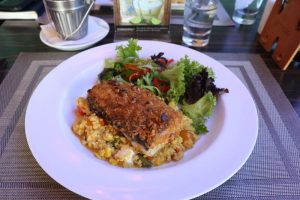 We ordered the delicious southern hake – clp 11.900 battered in almond crust accompanied by a quinoa stew and fresh salad, delicious!
If you also have children in your group, there is no need to panic! In Costamia there is something to please everyone, even the little ones. In Costamia you can also order delicious pasta and grilled meat cuts. But we preferred to go for the congrio à lo pobre – clp 10.900, fish and chips with fried eggs and caramelized onions. All the portions are very generous. This one is enough for two small kids!
Desserts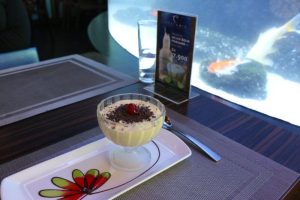 To begin with we couldn't decide between the dessert tasting – clp 11,800 or the passion fruit mousse, clp 4,500. If you really take the whole "trying chilean cuisine experience" seriously, for the same price you can have the famous manjar mousse!
But soon we ordered the passion fruit mousse, a great choice to cleanse the palate after a lunch filled with sharp flavours and aromoas, along with a small  espresso coffee – clp 1.900.
The Daily Menu
Tip! Tourists watching their budget have the option to go for the Costamia daily menu, available from Monday to Friday from 13:00 o'clock  to 16:00 o'clock – clp 8,900. We definitely recommend it for those looking where they can have a nice inexpensive meal in Santiago.
We spent over two hours over lunch at Restaurant Costamia. We had all our expectations met, this is a place where both the most sophisticated and conservative of palates will find a dish prepared with fresh, quality ingredients. Customer service was also good.
Those, however, were just some of the various experiences we had throughout our lunch. The restaurant's ambiance and décor are also definitely worth bringing up!
Restaurant's Costamia Aquariums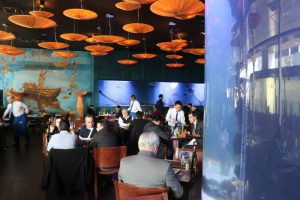 Do you agree that watching an aquarium is extremely relaxing? Well, get ready for this … In Costamia there are 4! Each with a distinct theme.
The aquariums here are even kept for preservation purposes and studies. Futhermore, Costamia's aquariums aim to represent the marine biodiversity of Juan Fernández archipelago, Easter Island and the coast of Chile.
Oh, and a very important detail: We were assured that none of the species kept in the aquariums are used in the restaurant's preparations and recipes. Cool, huh??
How to get there?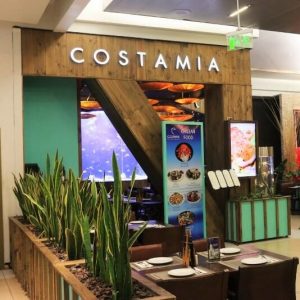 Easy! The restaurant is located on the 5th floor of the mall Costanera Center – No. 5168. All you need to do is make sure to stop at Tobalaba metro station, line 5 – red line.
Do not forget your bip!Card.
It will be hard to miss.  Right at the entrance, there is a beautiful aquarium full of life and colours welcoming tourists and returning clients alike.
Check out their official website for more detais: costamia.cl 
Enjoy it!