You'll often hear people say that the best thing about Chile is its varied terrain. It's true—if you're in Santiago, all you need is a couple of hours to arrive to breathtaking mountains or relaxing beaches. If it's the latter you're after, you're in luck. When it comes to beaches, Chile's got options: it's an entire country of coastline. The most difficult part can be choosing a beach to visit, as information available on the internet can be quite sparse. However, there are several beaches that you can easily visit from Santiago.
The most popular summer beach destination for the Santiaguinos is Viña del Mar. It's less than two hours by bus, and both Turbus and Pullman have buses leaving every 15-20 minutes. In the summer months, between December and March, these buses can sometimes fill up a couple of days in advance. Make sure to buy your ticket ahead of time, and be aware that you're likely to pay almost double the price of a ticket in the low season. It's still not incredibly pricey, though. Depending on the weekend, each way of the journey should cost you between 5.000 and 6.000 CLP. Buses to Viña leave from Terminal Alameda as well as Terminal Pajaritos.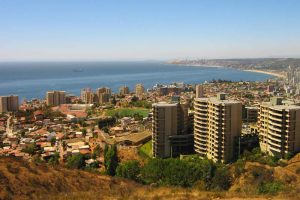 Once you arrive in Viña, you've got two options. The easiest thing to do is just stay in the city and hit the beach there. The city is essentially built along a beach, so you're not exactly escaping into nature. However, the beaches are still nice and relatively clean. There are lots of hotels and resorts on the beach if you're hoping to stay for a night or more. During peak months, these will set you back quite a bit of cash. If you can, try to visit in the also-warm months of November or March, when prices are a bit lower.
 If the city-beach isn't really your thing, you've got many other choices. Once you arrive in Viña, you can hop on a colectivo (a mini-bus) that will take you to any number of other beaches nearby. These generally cost about 1.000 pesos, take 30 minutes to an hour, and leave from a small plaza nearby the main bus terminal (there are English-speaking information attendants who can point you in the right direction). The most popular option is probably Reñaca, known for its party vibe during the high season.  For a laid-back, hippie feel, head to Maitencillo or Horcon. For a classier experience, check out Zapallar, where the moneyed Chileans flock during the summer months. In all of these places, you can rent cabañas or rooms in hotels. To search for these places, you can often look on websites like Vivastreet.cl and Yapo.cl, where owners will post vacancies. Beware—many of them won't speak Spanish, and many of them require a deposit made via bank transfer to confirm your reservation. Another method is to search for the tourism page of each individual beach, which will offer a list of suitable housing options.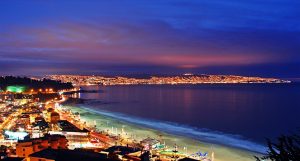 There are plenty of other beach options that aren't in Viña, as well. From Santiago, you can get a bus to great places like Algarrobo or Pichilemu that take just a few hours. Turbus and Pullman offer service to these locales as well, with buses leaving from Terminal Alameda. In these places (and many others), camping is quite popular—you can generally just show up with your tent and find a campground that will rent you a space.
It's worth saying that Chilean beaches aren't the most drop-dead gorgeous places you've ever seen—some of them are actually quite plain. But when the sun is shining and the people are out, it's a great way to relax and enjoy some culture. Beware—the water ranges from very cold to absolutely frigid. But there are plenty of other things to do on the beach, including enjoying a delicious fried empanada, which is a typical food in these spots. So grab your towel and hop on the bus—summer in Chile is something no tourist should miss.