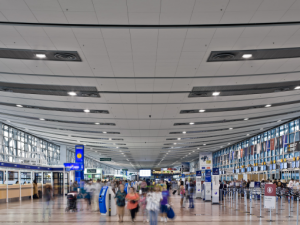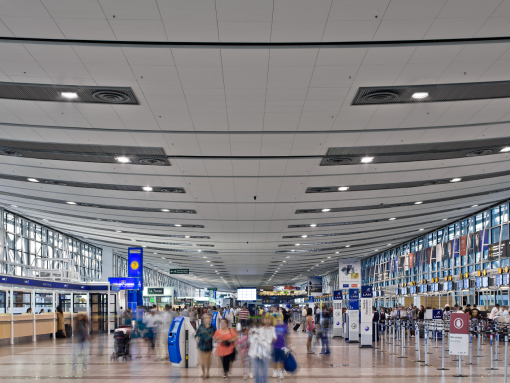 Santiago Airport
is small but completely functional, located northwest about 20 minutes drive from the center of Santiago. While the aiport is currently under construction to expand and improve the facilities, you will find that this does not interfere with your business traveling into or out of Santiago. One benefit to the small size of the airport is that you will never have any problem making a connecting flight. All terminals are located within one building. Food and restaurant options are limited but you can choose between the 21 restaurants, coffee shops, and bars for a bite to eat, a glass of wine, a coffee, or a snack for the flight. Another great alternative to airport food, if you have some time to kill before your flight, is to walk directly in front of the airport to the Holiday Inn to enjoy a coffee, a meal, or to take advantage of the free wifi. This option is also cheaper than what you will find in the airport. If you are in Santiago on business, consider the Holiday Inn for your overnight stay. It is conveniently located next to the airport so there is no hassle in transport, and you find the atmosphere quiet compared to the bustle of the city.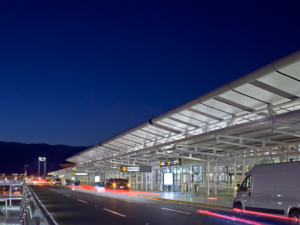 When transferring to or from Santiago to the airport, there are many options to fit any price range. A shared transfer van with the company Transvip is the cheapest option if you are traveling alone at 6.200clp and holds up to 7 passengers, who pay separately. When arriving to Santiago you will find the Transvip kiosk right outside customs, but before you leave the airport. If you are leaving Santiago, you can call to arrange a transfer van with Transvip, (http://www.transvip.cl/). They schedule pickup times for around 3 hours before your flight and you probably will spend some time picking up other passengers before heading to the airport. If you would like to take a more direct transfer, Transvip offers two options: "Corporate Transfer" or "Executive Transfer", both of which vary only in price and the type of vehicle. The Corporate Transfer costs 18.000clp and holds up to 4 passengers, while the Executive Transfer costs 25.000clp and holds up to 3 passengers only. If you would like to negotiate a private taxi price, there are taxis waiting at the airport that will take you to your destination and should cost between 15.000clp and 20.000clp. It is wise to come to an agreement on the price before getting into the vehicle. Also if you like to live life on the edge, you can catch a taxi on the street to take you directly to the airport for your flight without having to call a transfer service.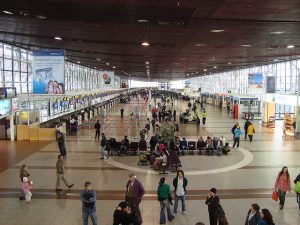 Here are a few tips to remember when leaving or entering the airport. Contrary to the customs officials when entering the USA, the airport staff in Santiago are quite friendly and helpful; feel free to approach anyone with questions or concerns you may have. Don't be alarmed by the mass of private taxi drivers hustling you for business right outside the doors of the airport. Remember everyone is trying to make a living; politely decline with a "No, gracias" and continue walking, or accept their service and keep in mind it might be easier to bargain on a price with a private taxi driver! It is always prudent when traveling to any foreign country to have a good grasp of the exchange rate. You can exchange money in the airport or take out Chilean pesos from an ATM before you leave the airport, but most people will also accept US Dollars. Don't tip more than you feel comfortable with, and don't let anyone make you think you haven't tipped enough. It is not normal to tip a taxi driver in Chile, or the man who offers to carry your bags to the exit, so any small amount (1.000clp-2.000clp) is sufficient. If you would like to find a taxi driver at a reasonable price but without all the chaos inside the airport, walk with your bags to the Holiday Inn or to the street outside to negotiate calmly with a driver.
As with any large airport, be aware of your luggage at all times. Remember you are in a foreign country, and most airport workers and taxi drivers do not speak English. Make sure to research some key phrases and pronunciations, and keep a pen and paper to write down numbers for the taxi driver. Have a great trip!
Article by:
Emma Fritz