The Santa Lucia Arts and Crafts Market – aka Feria Artesanal Santa Lucia
is your conveniently located, one stop Chilean and Andean souvenir market in Downtown Santiago across the street from the Chilean National Library and the Santa Lucia Hill. Just a few steps from the metro station Santa Lucia it is best to exit on the opposite side of Miraflores, making this the easiest way to get here.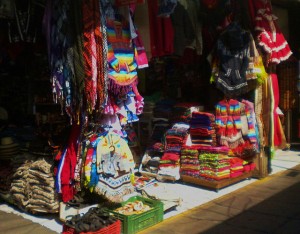 With over 100 stalls, it's a popular destination among tourists and locals alike where you will find t-shirts and shot glasses to more original, handcrafted goods. Although there are many arts and crafts markets all over Chile, this one houses a comprehensive stock of all things traditionally Chilean, with an impressive assortment of Andean influenced selection. The market is also well known for its safety, variety, and good prices. It's perfect for families, with stalls offering pan flutes, rainsticks and an array of handmade wooden toys that are both fun and important cultural assets for all age groups.
Inside, picturesque and colorfully packed stalls display the most typical must-have souvenirs like handmade shoes, copper and silver jewelry, carved gourd cups for yerba mate, lapis lazuli, woolen and leather handbags, backpacks and jackets, alpaca scarves and sweaters, bohemian clothing, vintage and creatively recycled products, but you will also see the occasional marijuana paraphernalia. Iconic Peruvian and Mexican products form part of the Latin American mosaic of indigenous motifs in the market as well. However, be sure to keep in mind what you can and can't transport across international borders, wooden and food products are most troublesome.
To fully take in all that the market has to offer, it is recommended to spend at least an hour surveying all of its eye-catching products, and remember to take cash as most merchants do not accept debit/credit cards. Open every day from 11am – 9pm, including holidays (except Jan 1st and May 1st), visiting before lunch is best as it is less crowded.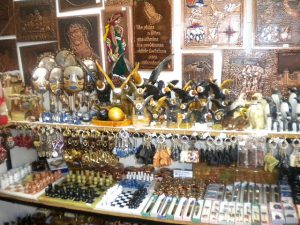 Although the market regularly receives international tourists, English unfortunately is not widely spoken, but don't let that get in your way! Merchants seem to be accustomed to speaking with their hands and pointing to prices as non-Spanish speakers do the same to complete their transactions. Oftentimes, prices are not displayed, and a simple ''¿cuánto vale?'' (how much?) will answer your inquiries and you may even receive an answer in American dollars. If you are accustomed or expect to bargain with merchants, you may want to pick up most of your gifts and mementos at one stall and haggle from there as most Chileans don't haggle as much in comparison to their neighbors, but there is no harm in negotiating.
Sitting directly across the Santa Lucia Hill, the Market is a great stop for a thirst quenching, freshly squeezed fruit juice and empanada before or after hiking up the hill for its excellent view of the city. With few options to eat inside the Market, if you're looking for more than a snack after shopping, just past the Santa Lucia Hill are Barrio Lastaria and Barrio Bellas Artes in walking distance – two bohemian neighborhoods where every corner has a new story to discover and a variety of restaurants and cafes to enjoy and plan your next step.