If you have been to Latin American cities prior to Santiago, you may recognize the phrase "Plaza de Armas." Literally a "square of weapons," the concept behind this city center dates back hundreds of years, to when Spanish conquistadors were establishing and laying out the grid for cities in the Americas. A single city block would often be intentionally left empty and surrounded by important government offices, cathedrals, and the like. In the event of an attack, the city's population could easily gather there to be armed and protected.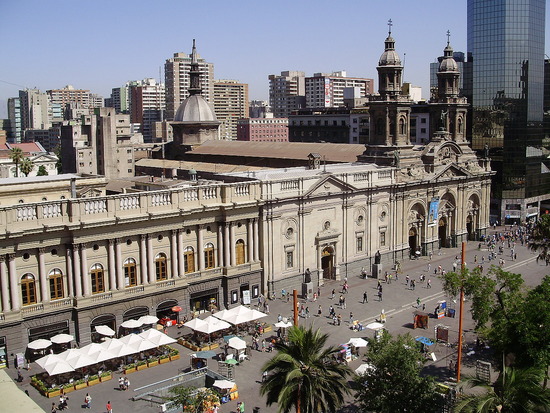 Santiago's Plaza de Armas has remained the heart of the city since it was founded alongside Santiago itself in 1541. The beautiful structures surrounding it are newer, largely completed in the nineteenth century. Today, the Metropolitan Cathedral of Santiago and the Central Post Office remain among the most eye-catching facades. The Cathedral is typically open to visitors throughout the day. You can easily spend an hour or more wandering around the immensity of its interior and detail of its décor.
Another notable sight at the Plaza de Armas is the Palacio de la Real Audiencia de Santiago, or the Royal Palace. The government seat of Santiago moved to the palace at La Moneda over a century ago, but this building today houses the National History Museum. You can visit this historical building and the hundreds of artifacts inside for $600 CLP any day until 6 PM, with the exception of Monday.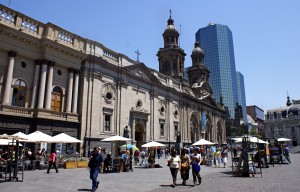 For something to do besides having a history lesson, go visit one of the indoor, single-story malls with an entrance at the Plaza de Armas. These malls contain artisanal as well as practical products, and navigating their twisting corridors is itself a cultural experience. Some excellent cafés can be found in them as well.
The "Plaza de Armas" exit of Metro Line Two will take you directly into a corner of the plaza itself. Being so centrally located, the Plaza de Armas can be stressful to reach during peak rush hours. During that time the metro is barely standing room only. Try going mid-day during the week or on a weekend. The weekends also tend to attract local painters, musicians, activists, and more- enough for a day's entertainment, particularly when coupled with the cathedral and museum. Although the grandeur is something to behold at night, there are far fewer things to do then, as well as an increased risk of running into swindlers.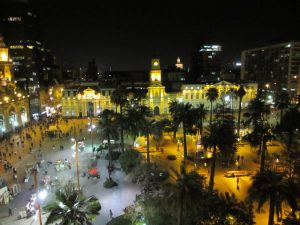 When planning your trips in and around central Santiago, just remember that Plaza de Armas tends to be at just arm's length from the bulk of the city's attractions, and can easily be visited en route to another activity or returned to if you would like to continue seeing what it has to offer.