Parque Quinta Normal is an 88-acre park and favorite attraction for local Chilean families. It provides a unique and at times nostalgic source of entertainment for children, and several museums as well. Located in central Santiago, it is most easily accessed by the metro station of the same name. Several buses pass frequently, and it is a short walk north from the Estacion Central metro station as well.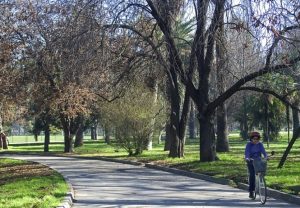 One of the most prominent sites in the park itself is the Chilean Museum of Natural History. This museum has extensive departments of anthropology, zoology, botany, paleontology, and entomology containing artifacts such as the mummy Niño del Cerro el Plomo. It can be visited until 5:50 PM Tuesday through Sunday for CLP $600 for adults, or just CLP $300 for children and senior citizens. Entrance is free on Sundays and select holidays, although it is closed on other holidays.
The Museum of Memory and Human Rights is located on Matucana Street just outside Quinta Normal. Detailing the history of the military rule under Augusto Pinochet following the Military Coup of 1973, this poignant destination effectively educates locals and foreigners alike on this important part of Chile's recent history. Entry is free, and parking is offered at a low price here as well.
Another favorite museum is the unusual but charming Museo Ferroviario de Chile, or Locomotive Museum of Chile. Home to fifteen historical trains and many educational exhibits, this is an especially great destination for those interested in the history of engineering and transportation. The other museums in the park itself include a museum of contemporary art and a children's museum.
Quinta Normal goes beyond standard expectations for a large city park. It is best known for having its focus on entertainment for children. From the moment you arrive, particularly if you visit on a weekend, you will see game and toy vendors where you can browse for one-of-a-kind or simply entertaining gifts for children. You may also encounter face painters and costumed cartoon characters. One of the most recent additions to the park is an aquatic recreational area, offering rowboat rides and a place for children to play in the water.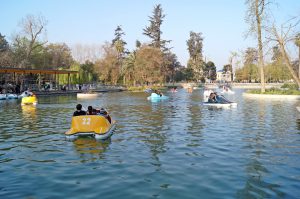 Snacks are easy to find for sale throughout the park, but there are also several picnic areas with tables and grills for those interested in having a barbeque. They are easier to secure when the park is minimally busy, such as during weekdays. Go to Quinta Normal early on a sunny day, and you will be certain to spend an afternoon with a surprising number of options for indoor and outdoor entertainment.