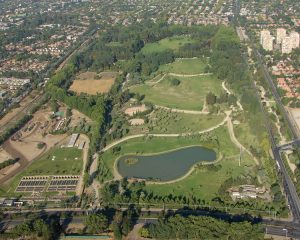 Parque Padre Hurtado straddles the comunas of La Reina and Las Condes and is one of the most popular attractions in Eastern Santiago. The enormous park has plenty of grassy space for games, paths through lovely wooded areas for running, playgrounds, and well-equipped picnic areas. It is also the site of several large annual events.
This park is located at the intersection of Francisco Bilbao and Padre Hurtado and is most easily accessed by taxi or bus. It is about a ten-minute ride east from Metro Francisco Bilbao (linea 4). It is well equipped with paved paths, making it a nice destination for bike rides. Entrance does cost $500 pesos on weekends and $300 during the week, and tickets to special events generally cost more. Unlike other parks in Santiago, there are not a lot of convenience stores nearby. There is a Chilean superstore called Jumbo near the entrance, but it is best to try to arrive at the park as prepared as possible. It also closes at sunset, with the exception of some major events, and is closed for maintenance on Mondays.
The hundred or so grilling and picnic sites are one of the park's most popular attractions. They are well built and include covered picnic tables and large grills. Picnic sites, or quinchos, are first-come, first-serve, and cost $5,000 Chilean pesos to reserve upon entry to the park. When the weather is nice, they often fill up by early afternoon on weekends. The grills border large fields that can easily host friendly soccer games and other activities. Alcohol is indeed permitted as well.

Parque Padre Hurtado is a good place to go jogging, even given the small entrance fee. The trails wind through lakes and more forested areas of the park. Most park employees ride horseback, which makes for a nice break from the urban scenery of Santiago. It is also located right at the foothills to the Andes, which sometimes lends to breathtaking sunrises, sunsets, and views of the snow.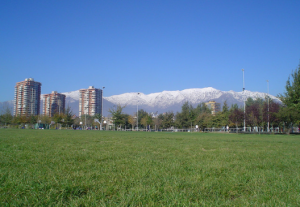 Several annual events call Parque Padre Hurtado home. One of the most famous is the Santiago Beer Festival, which happens for five days in January. This event has an excellent selection of food and local craft beers, as well as impressive musical performances. It is popular to locals because of how much cheaper and easier it is to access than the larger, more expensive beer festivals outside of Santiago. Another such event is the annual Santiago Jazz festival, which occurs in February. This is held in a large, grassy amphitheater that integrates beautifully into the landscape of the park, even when it is not in use for concerts. This area is also home to a famous rodeo and accompanying fonda (government-sanctioned public party) during the week of independence celebrations in September called Fiestas Patrias.
In Santiago, parks play a crucial role in how locals unwind and spend time together on the weekends. Entire families comfortably spend time together, and most parks offer a variety of entertainment and even toys for purchase aimed at children. Parque Padre Hurtado is known as one of the safest, cleanest, and all-around greatest parks in Santiago.
Address: Avda Francisco Bilbao 8105 – La Reina
Website: (Spanish only) http://www.parquesanalbertohurtado.cl/
Article by:
Emily Muñoz-Snyder