Pablo Neruda
Nowhere is Pablo Neruda's evocative poetry felt more viscerally than in his three homes, each of which is a labyrinth of whimsical colors, surrealist shapes, and quirky details born of the imagination of the poet himself. Located in Santiago, Valparaíso, and Isla Negra, the homes offer the chance to step inside the private life of the beloved poet, diplomat, and politician, and experience the world from his eyes. The homes – one, or all three – are a must-see in Chile, and are all located within a two-hour drive from Santiago.
La Chascona – Santiago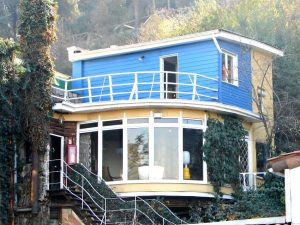 Neruda's Santiago home is the labyrinth-like "La Chascona", named in reference to the wild mane of red curls of Neruda's then-secret lover Matilde Urrutia, for whom the house was built in 1953. With winding staircases, wooden floors, and tiny rooms snaking through the house, the home evokes the feeling of a ship and is a tribute to Neruda's love for the sea. The streets around La Chascona are filled with some of Santiago's best street art, including a fantastical portrait of Neruda, as well as the city's widest selection of restaurants and cafés, making for a full afternoon in the city. The home is located at the foot of Cerro San Cristobal in Barrio Bellavista at Fernando Márquez de la Plata 0192 and is accessible via Metro Baquedano or Bellas Artes.
La Sebastiana – Valparaíso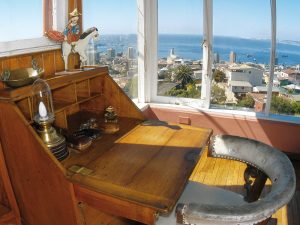 Neruda's imprint on Chilean collective consciousness is clear throughout Valparaíso, the bohemian port city that served as a lifelong muse for the poet and where his words are painted like kite strings along the city's walls. His home here is "La Sebastiana", which sits atop Cerro Florida offering panoramic views of the colorful port and the ocean beyond. La Sebastiana seems to rest precisely between sky and sea and, with its curved walls, arched windows, and wooden furniture, again evokes the feeling of a ship. There is a gallery on the home's grounds that houses rotating exhibits, often by talented local art students, as well as a café and tables for enjoying the view. La Sebastiana is accessible by car or local bus 612, or on foot via the Avenida Alemania, which offers majestic views of the city at every turn.
Isla Negra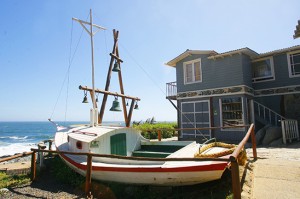 Neruda's third and largest home is the stunning seaside retreat at Isla Negra, where both he and Matilde are buried. The house is located on cliffs overlooking the sea, and with its life-size mermaid figures, gigantic seashells, and limestone walls, it seems at times to be part of the sea itself. Isla Negra or "Black Island" is not actually an island but rather a reference to Neruda's island-like place of solitude amongst the black rocks of the coast, which he treasured and where he often brought fellow politico friends to wine and dine. Isla Negra is located about an hour south of Valparaíso along a rural stretch of coast and makes for a good day trip by car or bus; by bus, take an Isla Negra-bound bus from Valparaíso's terminal. There are few dining options in the immediate vicinity, so bringing a picnic lunch is recommended. The beaches of nearby Algarrobo and El Tabo are also worth a visit.
All three Neruda homes are run by the Pablo Neruda Foundation and cost $5.000 for entrance with an audio guide tour.
They are open Tuesday-Sunday from 10:00am-6:00pm.