Chances are, you haven't heard much about partying in Santiago.  When one thinks of world cities with stellar nightlife, places like Barcelona, Paris and even Buenos Aires come to mind.  But spend a few nights out in Chile's capital and that perception is sure to change.  The carrete (party) in Santiago is just getting started.  With a wide range of nighttime activities, from culinary delights to thumping dance parties, there's something to please every type of partier.
There's a widely known joke that people from Santiago party on a vampire's schedule—the nights get going later than many other places in the world.  Typically, dinner is usually from 9 to 11 pm, followed by a few hours at some sort of pub.  After that, the night really gets going—many Chileans and foreigners alike head to dance clubs around 2 am, where they drink and groove until 5 am.  Legally, all bars are supposed to close at 5 am, but there are some "After Hours" places that stretch the night until long past when the sun has come up.
Certain districts in Santiago are known for their different nightlife vibes.  Arguably the most famous place to party in the city is the bohemian Bellavista district.  On a Friday or Saturday night, you can sit outside at one of the myriad restaurants, enjoying liters of beer or other copetes (a term for alcoholic beverages, usually cocktails) and listening to the audible thud of party-goers and street performers as they pass on the sidewalk.  For an experience that's a bit more upscale in the same area, you can check out Patio Bellavista, which has trendy bars and restaurants frequented by well-to-do expats and Chileans.  There are other neighborhoods that offer this upmarket atmosphere without all the crowds—try, for example, Barrio Lastarria in the downtown area.  This area has an almost European feel, with street cafés and rooftop terraces that provide a sophisticated (albeit pricey) night out.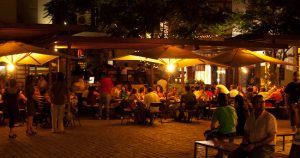 For those travelers on a budget, there is a wide array of options as well.  The Manuel Montt area is popular with students and other 20-somethings because of the various all-day happy hour offerings.  This street is positively bespeckled with bars and restaurants, and many of them are quite budget-friendly.  Other wallet-friendly possibilities include Plaza Nuñoa, a busy but still mellow scene, and Barrio Brasil, a longtime favorite for backpackers looking for a good time.  The price for a night out can be quite cheap ($10,000 CLP could buy you several drinks and your cab ride home), or very pricey (one could easily spend $40,000+ on dinner, drinks, and dancing at upscale establishments throughout the city). There's a good nightlife to be had for any price range.
There are also activities beyond the typical dinner and cocktails.  Every Friday, the two main newspapers, El Mercurio and La Tercera, each publishes a guide to weekend happenings around the city, including concerts, art showings, and other entertaining attractions.  Beyond the weekend, there are fun things going on every night of the week—and the districts mentioned above will be full of people no matter what day it is.  Just keep in mind that many bars close earlier on weeknights, and many clubs are only open on Thursdays, Fridays, and Saturdays.  In terms of seasons, it bears saying that the nightlife is a bit more "alive" during the summertime, with rooftop terraces opening up and people staying out late to enjoy the weather.  However, there are people partying every day of the year, so this shouldn't be too much of a concern.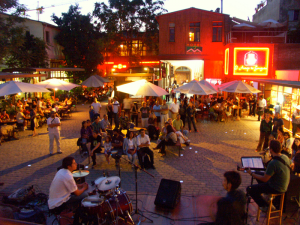 Most of these scenes are friendly to all people—couples, singles, gay and straight.  There are some widely known gay clubs and bars available.  No matter your gender or orientation, it's worth noting that you may not meet many Chileans who are interested in being your friend.  Chileans are generally known for being a bit shy and standoffish towards foreigners at first, so don't be surprised if you don't make friends with many locals on your night out.  This is obviously a stereotype, and it is currently decreasing, but don't beat yourself up if you end up hanging out with mostly expats at the bar.
Moving between all of these places is relatively easy and cost-effective.  The Metro has stops near all of these places, which run until around 11:15pm – there might be trains after that time, but don't count on it.  After that, the bus is always an option, with many of the routes running until 3 am and some of them going all night.  Before you head out, you can check out the Transantiago website (www.transantiago.cl) to see if your route will be available later.  However, most partygoers rely on the ubiquity and simplicity of taxi cabs. Compared to other big cities, cabs in Santiago are relatively cheap—they charge a $250 CLP starting fare, $900 per kilometer, and about $175 CLP per minute of waiting.
As in any city, make sure to keep your wits about you during your night out, and don't get too curadola (the special Chilean word for rip-roaring drunk).  Santiago is not a particularly treacherous place, but there are thefts that occur, especially when tourists aren't paying attention to their belongings.  Be responsible and watch your things at all times.  Women in general should be wary of the nighttime—it is not advisable for a woman to go out alone, especially in the more raucous areas like Barrio Bellavista.  Regardless of gender, if it's late, take a cab rather than walking to avoid any potential danger.  But if you stick with your friends and stay smart, you'll be able to enjoy a fun night out without any trouble.