Santiago bursts out of the Chile's central valley with an eclectic blend of old Spanish colonial influences and sleek, modern architecture welcoming visitors to a modern city with hints of history.
Since Chile lies on an earthquake zone, height limits for buildings explain the relatively "flat" skyline. Nevertheless, Santiago is home to the tallest building in Latin America – La Gran Torre Santiago (locally called la Costanera Center) beams up 300 meters (980ft) casting a shadow of more than a mile long containing a 6-floor mall, two high-end hotels and offices. Located in the trendy Providencia, it's easily accessible from Metro Tobalaba (Line 1 and 4).
Walking distance from Metro Tobalaba into las Condes, sits the impressive Edificio Consorcio Vida. An aerial view gives the impression that it is a ship ready to take sail. Appearing like it ran into a forest, the plant life is strategically positioned to absorb the heat during the scorching Santiago summers offering cool urban gardens.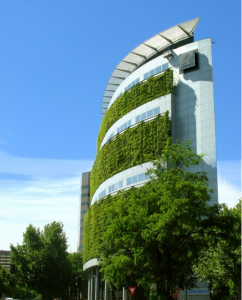 On Santiago's main avenue, Avenida Libertador Bernardo O'Higgins, commonly referred to as la Alameda. In el Centro is the presidential seat, el Palacio la Modena – a large, neoclassic colonial footprint occupying an entire block (Metro la Moneda; Line 1). Plan your day to see the Changing of Guard, a graceful ceremony performed with a full band. View the "Cambio de Guardia" Calendar.
Just a short walk along la Alameda towards el Paseo Ahumada lie three iconic, wedge-shaped landmarks on New York St. The street-splitting, triangular Santiago Stock Exchange is the third largest in Latin America designed in the French Renaissance style and to the left, similar in style, sits Ex-Hotel Mundial decorated with columns, pilasters and topped with a cupola. Beside them is Santiago's first skyscraper – el Edificio Ariztía. The trio's style is a rarity with only a handful of older buildings like them.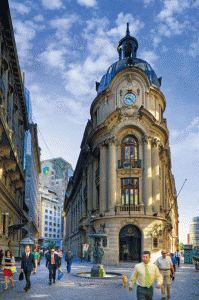 Zigzagging through the bustling business district through el Paseo Ahumada is la Plaza de Armas (Metro Plaza de Armas; Line 5), the city's main plaza and eclectic, visual overdose of street performers, original art, and statues all with a backdrop of modern skyscrapers highlighting the stark contrast. The neoclassical Metropolitan Cathedral steals the show as a peaceful getaway towering over the plaza welcoming everyone to discover her secrets and history.
An aesthetic and cultural source of pride is the Municipal Theater of Santiago, a classic music and opera house straight out of an old-world movie scene with stunning ceiling paintings and cherubs hovering over the seats (Metro Santa Lucia, Line 1).
Gabriela Mistral Cultural Center, or the GAM, (Metro la Catolica; Line 1) is a perfect example of Santiago's merge of the old and new taking advantage of the 1970s original world conference building and throwing in flying fish hanging from the ceiling, artistically transformed vintage-style lamps and doors, and encompassing glass rouse curiosity that invites you to enjoy theatre, film, dance, music, and art.
Santiago attracted wealth in the early 20th century building elegant French and Italian styled palaces and mansions like the Palacio Bruna, blocks from the GAM and directly in front of Parque Forestal. View the city rush by and visit one of the best ice cream shops in the world, Emporio la Rosa, for a taste of its diverse and creative flavors.