Museo de La Solidaridad Salvador Allende
in the midst of Republica neighbourhood, a few blocks away from the metro stop of same name, there is a house of modest facade which can easily be dismissed even by those actually looking for it. This building is the Museo de La Solidaridad Salvador Allende, a site surprisingly unknown amongst the Chileans, something that might make your search for it almost impossible in case you decide to rely on local knowledge.
How to get there
Don´t stress though, all you have to do is to take the exit "Republica" at Republica metro station and walk towards Estación Central on the busy Libertador Bern. O´Higgins road, whilst browsing for Av. Republica street on your left hand side, six blocks down Republica street you will find the museum to your right. The first two blocks of Av. Republica can be a little unpleasant to the senses, but after that it becomes a nice, lively street filled with students and youngsters rushing in-and-out the ubiquitous universities in the area.
The entrance to the museum is CLP 1,000 – free on Sundays – paid at the reception. Beware that at the reception you will be asked to leave your bag before entering the exhibition, this may be a little unsettling for some since bags and rucksacks are taken to a back room with no exchange for a number or key.
The interior of the museum is charming and generally free of crowds. Important works of renowned international painters and sculptors are displayed on the ground and underground floors of the building, as well as a collection of photographs revealing some important moments of Mr. Allendes´ election and administration, in a separate room. In this same facility there is also an eerie den housing the late president´s personal belongings, here a recording of his speeches is constantly played serving as background sound.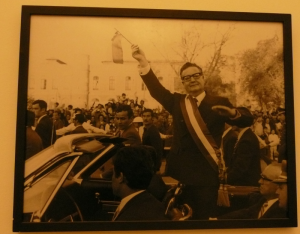 The museum and the military coup
The Spanish intellectual José Maria Moreno Galván had the initial idea for this museum, which was completely backed up by Salvador Allende, who inspired great respect amongst artists for his ideas, values and politics. He wanted to bring culture to all the peoples of his country, no matter their race, social class or creed; a museum, he believed, was a great start for that. Intellectuals and artists took part in his endeavour showing support not only towards his objectives, but also towards his populist political approach. Donations of artworks arrived from all over the globe, including those of Catalan painters Juan Miró and Tàpies.
As the military coup took place the museum was shut down and some of the art had to be taken away as to be protected from destruction.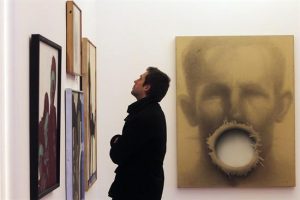 Actual museum
In the early 90´s when Chile once again became a democratic nation there had been a movement originated with the purpose to promote resistance to the authoritarian government. This movement also had support from the international art elite who continued to donate artworks as a clear form of protest. With the end of the dictatorship the paintings and sculptures could safely be showcased again, hence an important foundation was born: FSA – Fundación Salvador Allende, founded by the former president´s wife, daughters and grandchildren. The foundation began an extensive process of gathering all the donated art then housed in various institutions in Santiago.
In 2005 the museum was inaugurated in its current building, which through its renovation process, after years of closed doors, was found to have been a torture and intelligence station for the military. A room remains kept intact preserving wires used for listening surveillance as well as torture equipment.
As a result of so many donations FSA posses an extensive collection of art, in order to provide the general public with access to them all, the exhibition at the museum rotates from 2 to 3 times per year.
If you are the kind of tourist interested in contemporary art and history, Museo de La Solidaridad Salvador Allende is a powerful vehicle for both part of Chilean history and modern art, but the kind of art that delivers meaning way beyond the canvas, colours and shapes; the kind that transcends ideals, borders, the barrier of time and regimes.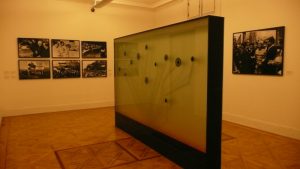 SantiagoChile.com´s Tip –
In case you decide to visit the museum to see the Picasso that supposedly is on display, check with them first. This is normally not the case, although stated by many touristic websites. For nearly one year the museum showcased a Picasso´s plate. Nonetheless, this is not a piece that integrates the permanent exhibition.
Interesting attractions nearby –
Two metro stops – also a 20 minute walk away – from Republica you will find La Moneda, the so called: heart of Santiago Downtown. In La Moneta tourists will find numerous historical sites, restaurants and shops. This area is much friendlier than Republica for a stroll followed by a well-deserved break in a coffee-bar.
Address –
Av. República 475 – Santiago Centro (Santiago Downtown)
Land line:+56 2 2689 8761
Website: www.mssa.cl/