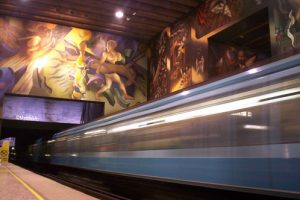 If you're in Santiago for more than a few hours, chances are you'll end up taking the Metro to move from one neighborhood to another. The system is a blessing for travelers—it's clean, efficient, cheap, and easy to navigate. While you're hopping from one spot to another, you may notice some interesting visual displays throughout some of the metro stations. Currently, 30 stations boast some sort of artistic installation, whether it be a large-scale painting or a colorful tiled mosaic. These are the product of the MetroArte initiative, a state-sponsored project with the goal of transforming the metro stations into cultural displays for locals and visitors alike.
MetroArte was established in 1992 by Metro S.A., the state-owned transportation business.  The idea was to provide artistic and cultural activities and works within the metro stations to create the feeling of a public museum. The first installation was Interior Urbano by Chilean artist Hernán Miranda, which he created within the Universidad de Chile metro station in 1993. Since then, varying artists and groups have provided works of varying sizes and mediums in the stations throughout the city, primarily those on Line 1. The works are sponsored by the state as well as by donations from private businesses and corporations. Some are large, framed paintings, while others are expansive murals spanning almost the entire length of the platform. Many of them are quite striking—take note as you travel through the city and you may end up choosing a favorite.  For those interested in learning more, each work is accompanied by several plaques explaining the artist and the medium.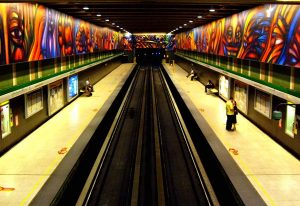 While the installation of these works is the primary goal of MetroArte, there are also other projects that fall under the organization's umbrella. Most notably is the Santiago in "100 Palabras" contest, an annual short story contest that encourages residents to submit 100 words that somehow relate to and encapsulate the city. The contest has become quite popular, drawing between 30,000 and 50,000 participants in recent years. The winning entries are featured alongside original illustrations on life-size signs throughout the metro stations. They're all in Spanish, but you could always take a cellphone snapshot of one and work on translating it during your metro ride! MetroArte also maintains cultural exhibitions throughout the metro stations, including the Centro Cultural Pablo Neruda in the Quinta Normal station and an open art gallery in the Puente Cal y Canto station. These small but interesting displays can make your travel through the city just a bit more interesting and cultural.
Article by:
Erin Morrissey