Santiago is home to a wide array of markets, and they all have one thing in common: they will change the way you look at shopping in your home country.  La Vega has its bounty of fresh produce and thousands of other novelties; La Persa Bio Bio is the place where you can lose an entire Saturday afternoon sorting through antiques and home goods.  The other important market in Santiago is Mercado Central, (http://www.mercadocentral.cl/) and while it offers produce and souvenirs, it's known among locals and tourists alike for one main thing: the fish.  Every day of the week, this market, founded in 1872, brims with an unbelievably diverse selection of seafood from South America.  Located on San Pablo and just a few minutes' walk from the Cal y Canto stop, on the yellow metro line, this destination is a must for a seafood lunch and a taste of the local culture.
Admittedly, Mercado Central can be a bit touristy, but this doesn't detract from its authenticity—Chileans and expats alike can be found browsing the stalls, examining the fresh fish, produce, and handicrafts.  Marisquerias throughout the structure sell succulent fish dishes at lunchtime, from a cold and zesty ceviche to a steamy, savory paella.  Seafood empanadas are also on offer—try a shrimp-and-cheese-filled pastry for a delightfully unique snack.  If seafood isn't really your thing, don't worry—there's plenty of meat on offer as well.  Vegetarians will delight in the collection of produce for sale (but admittedly, La Vega has this covered a lot better), and tourists will be able to find the perfect copper or lapislazuli jewelry as a souvenir.
Just as many people come here to eat as they do to shop.  While some stalls sell food over the counter, there are also sit-down spots available.  Be careful, though—many of these cater to the tourist demographic (or what they believe it to be) and charge a pretty penny for things that can be found much more cheaply elsewhere.  These restaurants will often have waiters trying to speak to you and get you to sit down, which can be a bit annoying if you're trying to just shop.  Most locals suggest avoiding the more costly restaurants in the center and instead visiting the more reasonable eateries on the outer rim of the market.  The market is open from 9am-5pm Monday-Friday and 7am-3:30pm Saturday and Sunday.  You should go during normal lunch hours if you fancy eating, but be aware that it will be very busy at this time, especially on the weekend.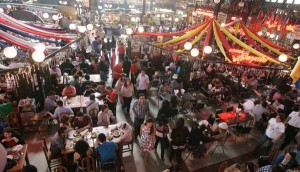 Of course, there are things you need to watch out for when you're at the market.  Some visitors complain about the overwhelming fish smell, but if you like fish or you have a good attitude, this shouldn't be too much of a problem.  Be careful where you step, though—the floors can get quite slippery around midday.  Vendors are generally friendly, but there is the occasional one who has no patience for tourists.  Keep your wits about you and your eye on your possessions, but also try to really enjoy the bustling environment of vendors and customers—it's a great microcosm of the city.  In fact, the market is a lot like Santiago itself: seemingly overwhelming and crowded and perhaps a bit cold at first, but if you get to know it, you'll find warmth and charm that is all its own, and you'll definitely want to come back.