Ola Mall Sport – Surfing in Santiago Chile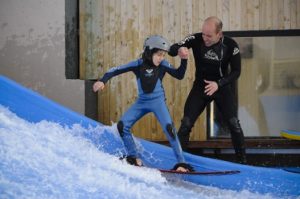 If surfing is your kid´s thing don´t let your trip to Santiago stop him from riding the waves. Ola Mall Sport Santiago is one of a kind in Latin America and brought to Chile a concept created in California. The artificial wave can reach up to 3mts high and weigh as much as 1.500 Kg/m2, for this reason your kids can only ride the wave after they have been approved by the professionals from Wavehouse surfing school. If this is their first time ever, they can always take a lesson consisting of 10 minutes of learning riding techniques, followed by 50 minutes of surfing under the supervision of an instructor. In Ola Mall Sport every season is the perfect season to go surfing, and once you get the hang of it, every wave is the perfect wave. This is definitely a destination worth visiting in Santiago, during the championship weeks, the music, the strong sun outside and the laid-back surfers provide a most charming and youthful environment.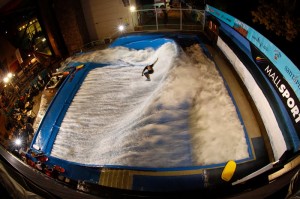 Address: Av Las Condes, 13.451
Local 101 – Mall Sports
http://www.mallsport.cl/
Price: Lesson – CLP$20.000 p/p including the board and wetsuit.
Free Session – CLP$12.000 p/p board and wetsuit not included.
Opening Hours: Ola Mall Sport is open from Monday to Sunday from 10am to 9pm.