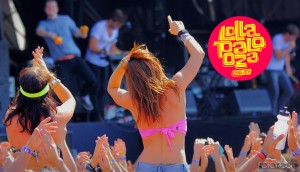 Lollapalooza Chile
is a rock music festival that originated as an annual tour in the United States in the early nineties, and evolved into a multi-day experience in Chicago after a hiatus. As it grew in popularity in the United States, it led to numerous imitators and global interest. Lollapalooza expanded internationally in 2011, and Chile holds the special honor of being the first nation to host Lollapalooza outside of the United States.
Today, Lollapalooza is held for two days in late March in Parque O'Higgins. The grounds cover several fields, the large cemented area, a lakefront space, and the indoor Movistar Arena. The hot summer weather has typically broken at this time, making for a comfortable and long-awaited experience for concertgoers.
A mix of top-tier international acts such as Red Hot Chili Peppers, Pearl Jam, The Killers, and Björk play Santiago's Lollapalooza festival along with major Chilean and Latin American performers. Other types of music featured at Lollapalooza Chile include electronic dance music, reggae, and hip-hop. There is also a stage and separate sections dedicated to children's music and entertainment.

General Admission Lollapalooza tickets cost about $125,000 Chilean Pesos. Presale offers take a considerable amount off the cost, as do buying tickets for just one day. VIP Lounge tickets are also available at a higher rate. Tickets can be purchased online and at a seasonal official distributor located seasonally in Mall Costanera Center, which is where paper tickets are exchanged for a wristband- a standard practice for security purposes.
In general, this festival is most frequented by upper-class Chilean youth and foreign tourists, even though it does not cost considerably more than typical international tours when they come to Chile. It is ubiquitously known and advertised in Santiago year-round. The crowd at Lollapalooza is friendly and even docile compared to other nations. Although all stages at the festival are standing-room-only, it is generally easy to find a space to watch at a variety of angles for those who arrive before musical acts start.
Lollapalooza has typically gone on in Santiago without hitch. Plenty of food and refreshments are available at kiosks throughout the festival, and bathrooms are abundant as well. There are no enormous issues with fraudulent ticket sales nor heavy drug use. In fact, under Chilean law, events on the scale of Lollapalooza cannot include alcohol venders. Santiago even runs the metros and buses that pass the festival on altered schedules to accommodate the crowds exiting the festival late at night. Lollapalooza is a fun and well-executed annual event that is recommendable for fans of live music.