Joan Miró Exhibition in Las Condes Santiago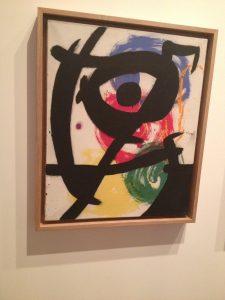 When compared to other South American capital cities such as São Paulo and Buenos Aires, Santiago may not rank top when the subject is culture. Nevertheless, this most cosmopolitan city definitely has been surprising locals and tourists more and more often. During the month of October, until the 26th, those who decide to take a walk upper town, in Las Condes neighbourhood, will encounter a free-exhibition of the Catalan surrealist painter Joan Miró.
Hidden in the midst of Boulevard Nueva Las Condes, a recently finished building now houses an Art Gallery Centre (Centro de Las Artes 660) founded by CorpArtes Foundation; for the opening of the space, some of the most important works of Joan Miró couldn´t have been a better decision. Partly, because of the sentimental connection the surrealist painter had with Chile as a consequence of his friendship with poets Vicente Huidobro & Pablo Neruda, but also due to the similar political events that both his country and Chile underwent throughout the XX century.
Joan Miró´s interest and sentiment for Chile resulted in a letter from president Salvador Allende to him, in which the politician express his appreciation towards the painter´s collaboration in developing a museum in Santiago composed only by donated art – pieces, this would have been a demonstration of the support from the artistic and intellectual world for Allende´s government.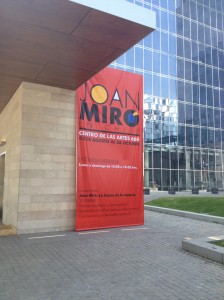 This is the second time in 20 years that the surrealist´s works have been exhibited in Santiago; this time, however, the majority of the pieces on exhibition were created within the decade 1960-1970. Additionally, some of the 112 works on display also comprise part of Joan Miró´s private collection brought directly from Barcelona to Chile.
In "Joan Miró, La Fuerza de la Materia" visitors will witness some of the artist´s most intimate expression of humour through his sculptures, as well as pieces which have never been showcased before. Some videos display Miró himself working in his workshop, which certainly brings an extra dose of emotion to the exhibition.
Taking photos is not allowed in an event of this importance and magnitude, but in the modest souvenir stand visitors can purchase a few interesting gifts which will serve well as a nice memory of this activity. Do remember to take cash with you, credit or debit cards are not accepted at the souvenir stand. The exhibition is free and there are various organized tours, in Spanish only, starting every hour for those with a deeper interest on the story that each painting, drawing or sculpture holds.
"Joan Miró, La Fuerza de la Materia" is open every day of the week from 10:00 hours to 19:00 hours. The address is Calle Rosario Norte, 660 – Las Condes. This street is specifically located in Manquehue vicinity which is easily reached from Manquehue metro station.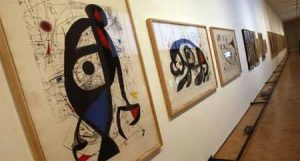 Moreover, the nearby area is a lovely complex of coffee-bars, restaurants and convenience shops (all open from Monday to Friday), it is well-worth a visit. Remember, in Santiago Chile, you never know what surprises you around the corner.
The exhibition can be found here on Google Maps:
Article by:
Abigail Dantes