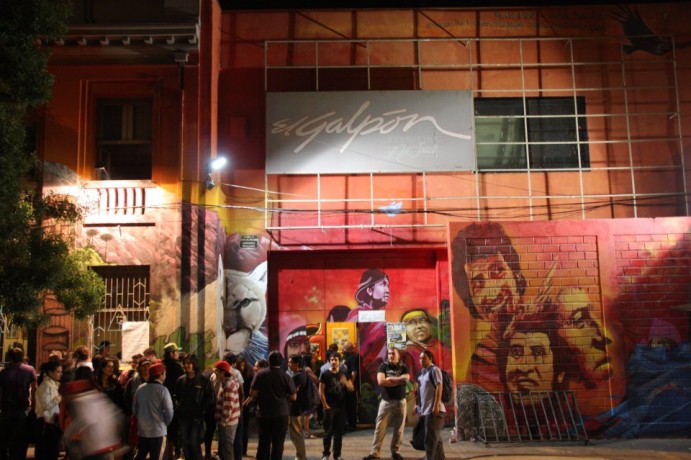 Galpón Victor Jara
or Victor Jara Warehouse, is a cultural center, live music venue, and dance club located in Barrio Brasil, aptly located as Barrio Brasil is arguably the most artistic and culturally rich neighborhood in Santiago. The center is named after the Chilean teacher, theater director, poet, singer-songwriter, and political activist who was killed by the Chilean army during the dictatorship of Augusto Pinochet. Victor Jara sang predominantly about peace, love, and social justice, and to this day remains a cultural icon for the Chilean people and symbol of the struggle for human rights. The Victor Jara Foundation, founded by Jara's widow, Joan Jara, created the space in 2003 to keep his memory alive and hoped that it could "be a meeting place for all kinds of artists: Chilean, foreign, and those alternative artists who don't fit in anywhere else."
Today it remains exactly that. Although the cultural center brings to mind a museum of sorts, the Galpón is a live venue performance space favored among Chilean indie bands and artists, mainly those of New Chilean Cumbia, gypsy, and cueca music genres. If you're interested in hearing live music specific to the Chilean culture during your stay in Santiago, the Galpón is open from Tuesdays to Sundays. Tuesdays are cueca nights. Cueca is the Chilean national dance, and is quite old-fashioned, but at the Galpón between 7:00-10:00pm every Tuesday, a faster, sexier version of the cueca comes alive with the youthful, enthusiastic crowd; "cueca brava," or "fierce cueca." Regulars and newcomers are equally welcome and it isn't difficult to find a Chilean partner to teach you the steps. Apart from being a tremendously fun event for musicians, dancers, and cueca enthusiasts, this event brings young Chileans closer to their roots and cultural traditions, and is a great way for a foreigner to experience a totally authentic facet of Chilean life.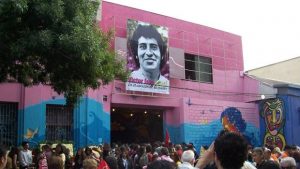 The rest of the week, Wednesday nights to Sundays, you will find Cumbia and gypsy bands, many which are quite famous throughout Chile and South America. On Wednesdays the shows begin at 8:00pm and tickets cost $2,000clp. From Thursdays-Saturdays doors open at 11pm and tickets are first come, first serve due to limited space, and shows end around 2:00 or 3:00 in the morning. Tickets on these nights cost 3,000 clp. Doors open at 12:00pm on Sundays to dancing, music, food, and craft shows. If you are not familiar with this type of music, New Chilean Cumbia is a subgenre of Cumbia, a music genre popular throughout all of Latin America, and draws influence from hip-hop, rock, Andean music, salsa, son, bolero, Afro-Latin music, and Balkan folklore. The result is exciting and very danceable music, creating a throbbing, artistic, lively atmosphere in the cultural center.
The infectiously rhythmic music, young, artistic crowd, and talented musicians creates a wonderfully unique way to spend an evening. The center is located at Huérfanos 2146, in Plaza Brasil off the Metro Cumming on the green line. Wear comfortable clothes, enjoy a cold beer, people watch, and dance the night away in Galpón Victor Jara.