El Pueblito Los Dominicos provides a sightseeing experience with doubled value. It is a grand historical sight, much like the Spanish Missions in the Western United States, as well as a phenomenal artisanal fair. It is very easy to reach from the end of Metro Line 1. Upon exiting at Los Dominicos station, walk straight into the adjacent park, toward the distinctive, old, Spanish-style church. The official address is: Apoquindo 9085, Las Condes.
This church is called San Vicente Ferrer Los Dominicos. It and the accompanying "pueblo," in this case meaning extended area for private and public functions, were originally built in the early nineteenth century. Containing numerous verandas, gardens, and works of religious artwork, the church itself is a feast to explore. It is open to the public from 4 PM onward.
There is a large parking lot directly in front of the church. The artisanal fair may initially be hard to see, but after walking to the right of the church facade, the arched entryway soon becomes apparent. On weekends, food vendors can be found outside the Pueblito selling traditional Chilean snacks such as empanadas and "humitas," which are very similar to the tamales many visitors to Chile are more familiar with.
There are several restaurants and food vendors inside this artisanal fair as well, although you may not see them immediately. What you will see are several flora-and-fauna-oriented vendors: garden shops, pet shops, ponds and fountains complete with live fish, and large bird enclosures perhaps containing a peacock or a macaw alongside chickens and doves.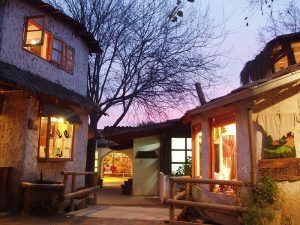 The pathway soon branches off into several directions, most of which make loops around the elaborately landscaped property. Throughout, the various small stores sell very high-quality examples of local art pieces. Ceramics, copper, and famous Chilean lapis lazuli are all found here easily. In addition, countless surprising discoveries can be made amongst the 120+ shops and kiosks. Chilean antiques, rare styles of kitchenware, spices, and woolen rugs and clothing are particularly prominent. Nearly everything available for sale has heirloom potential and is very well-made.
Do not shy from learning about the history of this location. The employees are all quite professional and knowledgeable. Plenty of resources are available indoors in the rooms bridging the space between the sanctuary and the fair. An eclectic chain of command has owned these structures and surrounding lands, from the Spanish to the Irish to other private ventures.
Musical entertainers and other activities also abound amongst the twisting paths. Community yoga classes and theatrical productions are also offered in El Pueblito Los Dominicos, so if staying nearby, it is useful to take down the schedule, which can be found at the bulletin board near the main square from which the several winding paths branch off. El Pueblito Los Dominicos is an easily accessed and smaller attraction, making it a tranquil way to spend a few hours in the afternoon.
Apoquindo 9085, Las Condes, Santiago, Chile