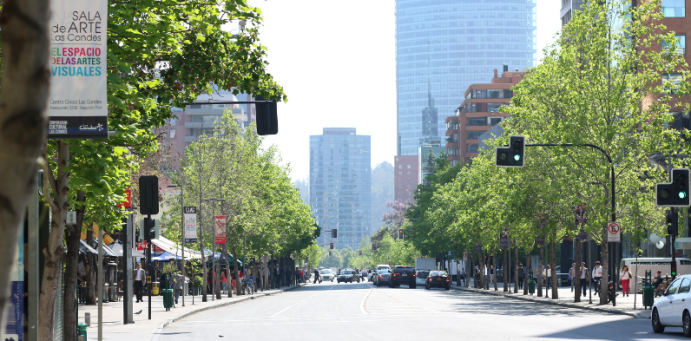 El Golf – Santiago
is a sophisticated, upper scale neighbourhood  located in Las Condes, an area of Santiago Chile gathering some of the nicest vicinities of the city where the majority of the five star hotels, renowned restaurants and fancy shopping destinations are found. El Golf, however, is the vicinity housing the priciest properties of the district, being, therefore, the most exclusive area of Las Condes.
Although mainly known among locals for being the finance district of the country, El Golf is much more than a number of international and national banks amassed together, this is an area where the well-to-do expats and Chileans meet up at popular restaurants, take their kids out for a stroll in the family-friendly square, la Plaza Peru, where an antiques market takes place on Sundays and where many travellers, from every corner of the planet, choose to stay during their visit to Chile´s capital.
Accommodation
The various types of accommodation in this neighbourhood cater for all kinds of tourists. Here, hotels such as The W, The Ritz Carlton and Plaza Bosque San Sebastian meet the expectations of those guests looking for 4 to 5-star services and facilities. As for those travellers on a smaller budget, they will be happy to learn that El Golf also provides well-priced destinations; The Hotel Director El Golf, Holliday Inn Express El Golf and The Hotel Atton El Bosque being highly regarded and recommended ones.
What to do?
El Golf is a great, safe and beautiful area for travellers to walk around at any time of the day, every day of the week. Sculpture lovers just need to go for a walk to come across interesting, creative statues which tastefully dot the streets of Chile´s finance district. Lovers of modern art will find breath taking exhibitions of contemporary Chilean art at the cultural centre Corporación Cultural de Las Condes. At the family friendly square Plaza Peru, toddlers and small children are provided with a secure, colourful environment for hours on end of fun. Nevertheless, for the more ambitious tourists, who wish to do more than just explore their whereabouts, the tube station El Golf is very centrally located within the neighbourhood and offers easy access to downtown and upper town, grounds of the city also worth any tourist´s while.
Gastronomy
Food lovers will not run out of options of where to dine when staying in El Golf. Here, restaurants range from those where the relation price-benefit is definitely their highlight to the fancier ones located at some of the aforementioned hotels. Just take a pick! Travellers celebrating a special date will love the intimate atmosphere of the restaurant Happening. In case you are on a trip to Santiago with a group of friends and don´t mind a busy ambient with lots of music, background laughter and loud talks, Tiramisú is a popular restaurant delivering rich, well prepared Italian recipes. There is an infinite list of options of places to have a nice meal around here; all it takes is a walk around for you to start spotting them all, the only difficult thing will be to pick one. For head start browse our restaurants in El Golf database.
El Golf is everything tourists want/need it to be. Whether you are in Santiago Chile during the summer or during the winter months this area of Chile´s capital will most definitely bring you all the pluses of a perfect holiday. An easy area to access from the international airport, this is also a practical location for those looking forward to a day or two up in the ski centers Valle Nevado, La Parva and El Colorado, since it´s only a 90 minute drive away from the ski hills.