Costanera Center – Santiago
No matter where you are in Santiago, if you gaze out across the skyline, there is one building that sticks out above all the rest.  This mammoth, space-age-style structure is the Gran Torre Santiago, and it is actually the tallest building in South America.  This tower calls out across the skyline as a beacon of modernism and—if you realize what it is a part of—consumerism.  The tower is one of four buildings in Providencia that comprises the Costanera Center, a collection of offices, apartments, and a shopping mall built by South American retail giant Cencosud.  While the Torre is still under construction, one part of the Center is certainly open for business: the seven-floor shopping mall.

The mall opened in June 2012 after a long and drawn out construction process (the economic crisis of 2007-2009 halted the project for months).  It is currently the largest mall in all of South America.  It is home to a movie theater as well as a food court that has seating for over 2000 people.  For those who've overdone it at the mall's myriad restaurant offerings, there is a Balthus gym.  There is a Jumbo hypermarket (owned by Cencosud) that puts every other supermarket you've seen to shame, with nearly a hundred aisles to browse.  There are two upscale hotels and Chile's first Hard Rock Café.  Each floor of shops is roughly arranged by category—men's clothing, women's clothing, and so on—but not all shops adhere to this.  As such, the mall can be a bit difficult to navigate.  But never fear: there are built-in touch-screen store listings on each floor so that you can scroll through the hundreds of options that are literally at your fingertips.  The list of stores is seemingly endless, and ranges from lower-end to exclusive luxury.  All three of Chile's biggest department stores (Paris, Falabella, and Ripley) are represented in the mall.  And obviously, for the thousands of people that come for these amenities every day, there are five subterranean levels of parking.
The mall is easily accessible in the city—it is located at the intersection of Andrés Bello and Nueva Tajamar, steps away from the Tobalaba metro station.  There is actually an aboveground walking tunnel that takes you from the Tobalaba stop directly into the mall, lest actually crossing the street were to deter you from your shopping trip. When you first enter the mall, it can seem a bit overwhelming, but the chaos is actually relatively well-managed.  Using the touchscreen feature or a bit of exploration, you can easily locate whatever shop you need.  Just beware—once you've chosen your purchase, you may be waiting in a queue for quite a while. The lines at many of the more popular stores can take up to 20-25 minutes.  This is likely a result of overcrowding coupled with the general Chilean disregard for snappy customer service.   But if you're looking for that one special item, it's worth it—there is no better selection in Santiago than what's on offer at Costanera Center.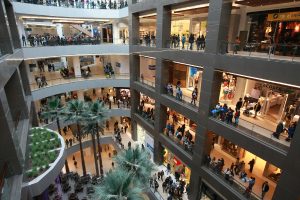 If you can avoid it, try staying away from the mall on the weekends and going during the week, when it will be less crowded.  Another midweek bonus is that tickets to the cinema are half-price on Wednesday nights.  If you're hitting the food court in the middle of the week, be aware that you might have to wait a while: this spot has become a popular place for local businesspeople to eat on their lunch break.  You may hear Chileans complain about the Costanera Center being too big and overly consumerist, but it's hard to believe that there's any dissent when you see how many people come to this place on a daily basis.  It's definitely got its drawbacks, but the mall is worth visiting—for many, it is unlike anything you've ever seen before.