Chile is renowned around the world for their wine; so, what better way to experience this than a wine tour to the beautiful and historic Concha y Toro winery founded in 1883 and located in the Maipo Valley, just outside Santiago. Especially if you are short on time during your stay in Santiago, Concha y Toro winery is your best option for a wine tour. It is easily accessible via Santiago's safe and reliable public transportation. In just under an hour, the busy streets of Santiago are a distant memory as you walk through the vineyards, gardens, and 19th century summer residence of the Concha y Toro family, sipping a glass of wine under the warm Chilean sunshine. Enjoyed by native Chileans and foreigners alike, tours are absolutely accessible year round, as Santiago's winter weather is very mild, and still has many sunny days. However, the best time to visit would be the spring and summer when the vines are filled with grapes.

The winery offers three different types of tours. The traditional tour takes about one hour, costs $9,000clp (US$18.00) and reservations only have to be made 24 hours in advance for an English-speaking tour. Tours run from 10:00 am-5:10 pm and include a tour of the exterior house, gardens, park, Pirque vineyard, wine cellars, the famous Casillero del Diablo cellar (The Devil"s Locker), two wine tastings, and an engraved wine glass as a gift. There is also the option of purchasing an extra wine and cheese pairing, exploring the gift shop, or eating lunch in the restaurant located in the winery featuring typical Chilean dishes. The staff, both English and Spanish speaking, are incredibly helpful, kind, and well-informed, and if you call in advance you will be able to accommodate a large group size or special tour. If you are traveling with children, it will be helpful to know anyone under 18 enters free, although, of course, will be denied the wine tastings.

Although it is possible to book a car and tour through an agency or your hotel, it is accessible, fast, and cheap through public transportation. Take the metro to station Las Mercedes, located on the blue line, or line 4, and exit through the "Concha y Toro Poniente" direction. Once outside you have the option of taking a taxi (about $3,000clp or US$6.00) to the vineyard or taking a Metrobus to Pirque (numbers 73, 80, or 81.) From leaving the metro, either taxi or bus should take about 15 minutes. Only one thing to avoid if traveling via public transportation is the peak times: In the mornings, from 8am-10am, and in the afternoons, from 5pm-7pm. While it is still absolutely possible to travel during these times, you will find the trains to be more crowded.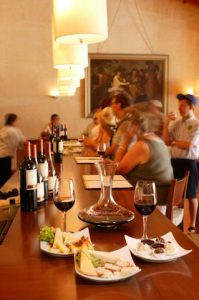 While the gift shop and extra wine tastings are rather expensive, and the wine can be bought cheaper in a supermarket the wine tour experience really is a must-see in Santiago. You will be able to enjoy a wonderfully relaxing and beautiful afternoon with the Traditional tour, and really experience some of the beauty of Chile: a sunny day, a glass of wine in hand, and the beautiful Andes mountains as a backdrop in the distance.
Have you been visited Concha y Toro? All comments are welcome and help other travellers.