Among many other attractions Chile is also well known for its vast wine production, including the "lost and found" Carménère.
When in Santiago it is possible to visit nearby vineyards such as the well known Concha y Toro, Santa Carolina and Viña Cousiño Macul which all include English-speaking tours of the vineyard and wine cellars as well as wine tasting. In the event that you do not have enough time to do an on-site visit, all sorts of varieties of wine are available throughout the city. There are specialized stores such as El Mundo del Vino, La Vinoteca, La Cav and quality wines may also be found at the local supermarkets as well.
While bottles of wine may be cheaper if bought in their respective vineyards, the prices do not vary much depending on location. The price of the desired wine may not necessarily reflect its quality, as one may find high quality wines for a price less than what one is accustomed to.
Listed below are some of the most popular varieties of wines as well as vineyards produced in Chile, with price ranges varying from low ( under CLP 3.000) to high (CLP 20.000 and over). On the side there is a list of recommended food that goes along with each wine.
Popular Red Wine Varieties
Cabernet Sauvignon – Red meats, pork, lamb and strong cheese

Carménère – Pasta with Pomodoro or Bolognese sauce, Mediterranean cuisine, pâté

Merlot – Ricotta filled pasta, cheese, white meats

Syrah – red and game meat, seasoned plates, Mexican cuisine, black olives, cured ham

Malbec – lightly seasoned red meats, roast beef

Pinot Noir – fatty fish, salads with meat, risotto
Popular White Wine Varieties 
Chardonnay – fatty fish, salads, white meat

Sauvignon Blanc – Ceviche, sea food, sushi, tart dressings

Late Harvest – deserts, cakes
While Chile is also a producer of sparkling wines they are better known for their deep reds and crisp whites. That doesn't go to say that the sparkling wine isn't making headway. Some of the better known wine makers are: Valdivieso, Viñamar, Undurraga and Carmen. Offering Brut, Extra Brut of even Champenoise made of Chardonnay, Semillon or even Riesling grapes.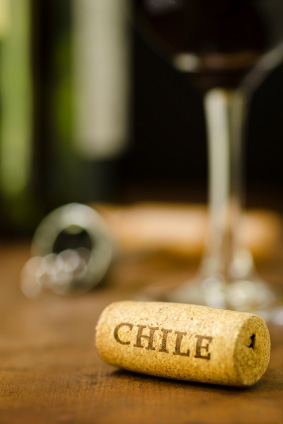 As previously mentioned, in Santiago you will be able to find an ample variety and price range. If you are not in the mood to overindulge, Concha y Toro sells a decent Cabernet Sauvignon for just over $2.000 CLP, Viña Casas del Bosque offers a $12.000 CLP Sauvignon Blanc and you may even find a Morandé Brut Nature for $17.000 CLP.
As for vineyards, here are a few to look out for when buying wine in Santiago:
Concha y Toro
Cousiño Macul
Los Vascos
Morandé
Quintay
Santa Rita
Tarapaca
Undurraga
Valdivieso
Von Siebenthal
Travelling home with your newly acquired bottle has become an easier task these days. When buying at a store, mention that you will be traveling long distances and you will be aided with a special casing. There are new top of the line inflatable casings as well as heavy-duty boxes available. If all else fails, be sure to wrap the bottle in several layers of clothing and you shall be enjoying your wine in the comfort of your home in no time.