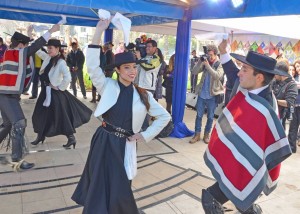 Chile's cultural history is rich and unique, involving the Spanish influence and the native indigenous people and blending them together to tell the story of Chile's history. In any capital city, you are bound to find cultural exhibitions specifically directed towards and available to only the targeted social classes. What is most special is finding those cultural facets that transcend class and social standings.
If you are looking for opera, premium-priced art galleries, theater shows, and fashion shows, you will find them in Santiago. If you are looking for a $5 ticket to see a local Chilean band, Chico Trujillo, play in a bar in Bellavista, you will also find that on the same day. What is so special about Chile is the variety of opportunities there are to encounter culture. On Sundays most of the museums are free, every day street vendors are everywhere selling their beautiful artisan creations on the streets, and you'll always find an entrepreneurial guitar player playing a song or two on the bus. Chileans are extremely proud of their country and its artists and you can't miss an opportunity to experience a piece of the Pablo Neruda's life and explore one of his three houses in Chile, or catch a live music show from a Chilean artist.
If during your time in Santiago you happen to have access to a radio, spend some time flipping through the stations. The Chilean music scene has grown greatly in the past few years, and you can find performances from an variety of genres, such as Cueca (the Chilean national dance), Pop music such as Chilean cumbia and heavy metal, and traditional folkloric songs. One quite predominant type of music you will hear on the radio, and on the street, is Reggaeton music, a very popular type of music in Latin America. It is definitely more popular with the youth of the country, and the continent, and draws influence from Merengue, Bachata, Salsa, Vallenato, House, and Rap music. Love it or hate it, it is very popular here in Chile. Music from the United States has also heavily infiltrated South America, and it is very common to hear all genres of music from pop, rock, 80's, 90's, alternative, indie, and everything in between! On the radio, a great station to look for is Rock and Pop, 94.1. It offers an excellent mix of pop music and alternative lesser-known American artists and popular Chilean artists.
Being such a small country, of 17 million people, watching TV here is different than watching it in another country. International news is definitely touched on, but you are able to find more in-depth and focused pieces based on the people, stories, and news within Chile, for examples a students' struggle to get to University, the student protests for free education, or a comprehensive background on the recent 9 presidential candidates. Sports teams, especially soccer, or "futbol," and sports games are extensively covered, and should be seen in person if the opportunity arises during your stay in Chile. Chile also produces their own reality shows, that seem to be just as addicting as those produced anywhere else in the world.
There are many opportunities to experience culture in Chile, whether it be an expensive art gallery or fashion show, a history museum, a visit to a house of Pablo Neruda, a live band, or a soccer game. Keep your eyes and ears open and you are guaranteed to experience a unique part of Chile's culture.