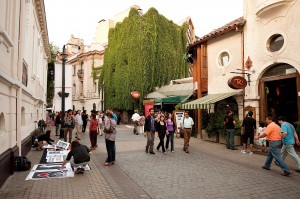 Lastarria is a historical neighborhood in Central Santiago, located North of Avenida Liberador Bernardo O'Higgins (the "Alameda"). It is adjacent to the neighborhood Bellas Artes, Cerro Santa Lucia, and can be easily reached via the Universidad Catolica metro station. If the old buildings and artist hideaways of large European cities charm you, Lastarria, is an excellent place to spend an afternoon or evening. Planning a meal and a meandering walk in Lastarria after a visit to the must-see Cerro Santa Lucia is highly recommended.
The main street through the area is called Jose Victorino Lastarria, and is packed with artesenal cafes, mid-to-high end restaurants, hotels, and a historical movie theater called El Biografo. The numerous smaller streets branching off have more shops, bars, and eye-catching street art. Close to the Alameda entrance to Lastarria, on the left side of the street, is a crowded patio adorned with fountains and coverings. Here, you can easily access cuisine from traditional Chilean, to local craft beers, to fine sushi.
The end of Jose Victorino Lastarria branches left to Rosal street, and also continues straight through a pedestrian plaza covered in kiosks selling antiques and books- many of which are in English. At the end of this passage is the famous ice cream parlour Santa Rosa. Although Chile generally has excellent ice cream, Santa Rosa's treats are rated amongst the best in the world, and arguably are the best in South America.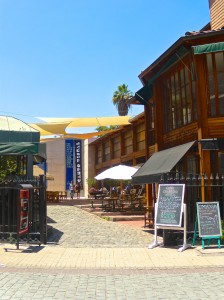 If you instead hang the first left on Rosal (putting you on "pasaje Rosal"), you will find yourself on a short dead-end street. The noise you will hear at the end is from three local favorite gastropubs. Hookah Troopa is also a classy hookah bar specializing in vegan and vegetarian food, a hard-to-find cuisine in much of Santiago. Here, you can easily dine alongside locals at a reasonable price. This area is however closed on Sundays, unlike most of Lastarria.
Make sure you spend some time on that main drag through the neighborhood: Jose Victorino Lastarria. You can easily relax outdoors and people-watch amongst some of the most colorful characters in Santiago. An outstanding restaurant in the heart of the nieghborhood is Don Victorino, where for up to 20,000 CLP per person (and another 2,000 or so for wine), you can try some of the most well-prepared Chilean food in the city. Their creative take on ceviche and hearty salads make for a particularly memorable meal. The nearby Bocanariz provides a similarly priced experience, but with more emphasis on Chile's impressive wine culture.
Weekdays are the preferable time to visit, as this neighborhood is a weekend destination for tourists and locals from Santiago alike, and is known for getting crowded. However, there tends to be more artist performances on the weekends. On a Saturday night, you easily catch free professional classical music in the streets, explore an installation, or even walk by an outdoor screening of a local film.
Between the food, art, and laid-back culture, Lastarria is easily many visitors' favorite spot in Santiago. No matter your interests, it is worth a solid visit for a meal and a walk. Just don't be surprised if you find yourself itching to return to this unique enclave as soon as possible.