The Neighborhood Barrio Italia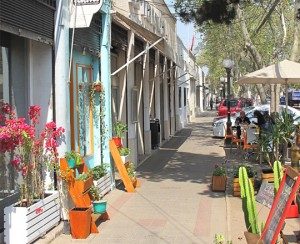 Barrio Italia is one of Santiago's most charming neighborhoods.  Located on the streets surrounding Avenida Italia, it is shared between the comunas of Providencia and Nuñoa, and it has something for everyone. The neighborhood began to flourish in 1910, when an Italian family opened a hat factory and commerce started migrating to the area.  This barrio has grown over the last century and now prides itself on its array of cultural offerings, such as museums, workshops, and restaurants.  It's more bohemian and tranquil than many other areas in the city, and is the perfect place to visit during the day or night.
How to Get There
There are two Metro stops that will take you close to Barrio Italia.  On Line 1, get off at Baquedano, where you'll head south down Avenida Italia.  Or take Line 5 to Santa Isabel and walk east on Santa Isabel.  You'll know you've arrived at Barrio Italia when you start to see bright, artsy coffee shops and vintage stores popping out of the otherwise understated architectural color scheme.  The idea behind Barrio Italia is that these unique stores, eateries, and galleries exist alongside symbols of every day life in Santiago, like the corner store or a university (the neighborhood is home to the city's communications school, UNIACC).  During the day, you can browse the clothing and antique shops or enjoy a coffee or freshly-squeezed juice at one of the lovely cafes.
Overview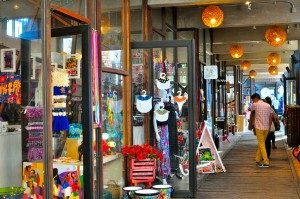 One of the primary elements of Barrio Italia is its culture of design.  For those interested in architecture or interior design, this neighborhood offers a wealth of stores, galleries, and workshops.  Antiques are a popular theme in the area, but many of the shops also offer modern or art-deco style home goods. This would be an ideal place to pick up something unique for your house or garden—many of the stores offer shipping services for an additional fee.  The majority of the shops are open Monday-Saturday during the daytime and evening.  The workshops generally require coordinating in advance to schedule a visit.
Gastronomy & Nightlife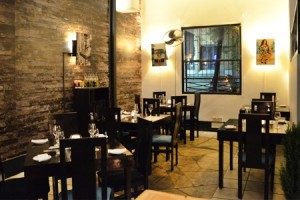 Barrio Italia's other creative endeavor is its gastronomy.  Over the years, the neighborhood has become a beacon for restauranteurs hoping to open alternative and innovative eateries.  There are plenty of international offerings—Danoi for Italian, Comida Mexicana for Mexican, and Raul Correa y Familia for upscale Chilean cuisine.  There are also numerous cafés and bakeries.  Most of these places have picked up on the neighborhood's artsy vibes, combining their food and drink with a thematic aesthetic experience.  These restaurants are all lovely, intimate places to enjoy a sunny lunch or a candlelit dinner.  In terms of nightlife, many of these restaurants as well as some smaller bars stay open late.  Stroll through the area after dinner and you're sure to find somewhere to enjoy a fresh cocktail or a craft beer.  Whether you visit in the day or at night, you're sure to enjoy the relaxed and inspiring vibe of this area.  It's a very unique spot in the city and shouldn't be missed.